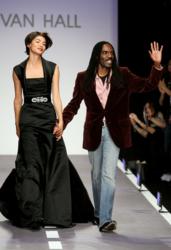 Los Angeles, CA (PRWEB) September 21, 2011
A recent article in the New York Times lamented the fact that the house of Halston, one of fashion's most iconic brands, would not be showing at New York Fashion Week. The label is currently without a creative director, as recent president and chief creative officer Sarah Jessica Parker, who oversaw the Halston Heritage line, departed the label this summer.
Roy Halston Frowick, the charismatic fashion designer who died in 1990, moved to Manhattan in 1957, and began as a milliner, designing the famed pillbox hat for Jacqueline Kennedy Onassis. He evolved to Ultrasuade shirtdresses and sexy pantsuits, becoming one of the most popular designers of the 1970s. His clients included Liza Minnelli, Bianca Jagger, and Lauren Hutton. He was one of the first designers to license his name to create affordable collections.
Since his death, the license to make Halston products have been bought and sold five times. Seven different fashion designers, such as Kevan Hall and Randolph Duke, former Fashion Design Graduates of the Fashion School FIDM, and Bradley Bayou have helmed the line. In recent years, celebrity stylist Rachel Zoe was brought on to assemble the label's archives and movie producer Harvey Weinstein became a board member and Halston shareholder.
The question of who will take over the reigns at Halston remains a mystery for now. The New York Times said Halston is expected to announce Marie Mazelis, formerly of BCBG, to lead as creative director. In the meantime, vintage Halston gowns continue to have a cult-like following and the Halston Heritage line fares well at department stores and top boutiques.
FIDM/Fashion Institute of Design & Merchandising is a co-educational, specialized, private college dedicated to educating students for the Fashion, Graphics, Interior Design, and Entertainment industries. Known as a one of the top fashion design schools, FIDM is also a leading graphic design school and digital media college. Visit fidm.edu for more information.
# # #