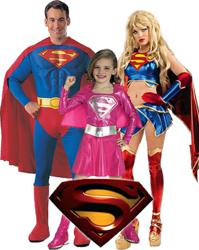 There is certain to be new Superman costumes to coincide with the updated uniform used in the movie as it gets closer to the release date."
Mancos, CO (PRWEB) September 21, 2011
Superman costumes remain a favored dress-up choice among customers who shop at TotallyCostumes.com. The favored superhero has something for everyone whether they are a comic book lover or a fan of the films. TotallyCostumes.com offers a large variety of Superman costumes for baby, infant, toddler, child, adult and plus sizes. Each style features a distinctive and iconic uniform that is recognizable by superhero fans everywhere.
The category will only grow in popularity with the upcoming release of Man of Steel, the new Superman film releasing in 2013. Man of Steel will star Henry Cavill as Clark Kent and tell the story of how he becomes the superhero known as Superman. Co-starring Russell Crowe and Kevin Costner, the new Superman movie is set in Chicago and will reboot the film series while introducing the next generation to the classic superhero. Nova of TotallyCostumes.com assured, "There is certain to be new Superman costumes to coincide with the updated uniform used in the movie as it gets closer to the release date."
Serious fans looking for an authentic Superman costume will appreciate their collection of Collector's Edition Superman costumes that range from $259 - $699. Shoppers can expect these super deluxe styles to be made of supreme quality with an officially licensed design by DC Comics. For those looking for a cheaper price point, TotallyCostumes.com offers plenty of deluxe Superman costumes that can be considered including a few styles with a muscle chest piece and Clark Kent transformation styles.
Young fans can transform into their favorite flying superhero with the help of a Superman costume for kids, toddlers and infants. The baby Superman costume features an ultra soft baby bunting design while the infant and toddler Superman costume will include a romper with inner leg snap closures for making diaper changes easy. Kids will enjoy dress-up play in their superhero uniform. The Superman costumes for kids will generally include a jumpsuit with red boot tops, flowing red cape and yellow utility belt.
Girls and women can get in on the superhero action with the accompanying Supergirl costumes offered at TotallyCostumes.com. In addition to the classic red and blue uniform, girls and toddlers can choose from a Pink Supergirl costume. Women can choose from the traditional dress, sexy midriff-baring version or an anime-inspired Ame-Comi Supergirl costume set. The latter is a new release for 2011 and includes a metallic blue crop top, matching mini skirt, panties, red flowing cape, long red gloves, blue gauntlets and red thigh high boot tops.
About the Company:
TotallyCostumes.com, a leading retailer of superhero costumes and costume accessories for all occasions, makes sure the party never stops! This e-commerce costume retailer believes in carrying a large selection of high quality costumes in all sizes, styles and themes to fulfill any party, costume or event requirement. They have a dynamic team that works together so their customers receive their order quickly. Their friendly customer care team is dedicated to providing their customers with diligent service while their shipping facilities work efficiently in shipping your order out as quickly as possible.
###