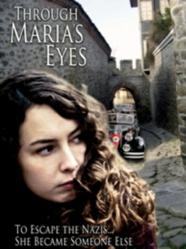 Chandler, AZ (PRWEB) September 22, 2011
Comic, film producer, and performer David Rich has set out on an exciting, yet thoughtful venture, in memory of his late mother. The compelling new novel, "Through Maria's Eyes," tells a riveting story of a young Hungarian Jewish woman who escapes Nazi capture by masquerading as a Christian.
"I made a promise to my Mom that I would tell her story," Mr. Rich reveals. " This was to honor her and all those who are survivors. My mom passed away June 10th, 2010 knowing that her story was being written but did not see it done. She did get to see the cover and it made her happy."
The novel is an adaptation, as Mr. Rich goes on to explain. "It started out as a screenplay written by Scott Walker. In order for more people to be able to read the story I had Linda Sunshine help me novelize the screenplay."
Others who have read the novelization have given a great deal of positive feedback on the story. Below is a sampling of the comments they made.
"I wanted to say that I simply LOVED 'Through Maria's Eyes'....Normally, I will take a few days or a week to read a book, because I do read every word, and I don't skim through it. However, I started to read this wonderful little book yesterday afternoon, and did not stop until I was finished with it last night."
-Audrey and Robert Loggia
"Started it and could not sleep until I finished it. Read very well and kept my interest."
"We have both completed reading your novel, "Through Maria's Eyes", We both thought the book was very well-written by you and Linda Sunshine. The story presented itself in such a manner as to maintain our interest and curiosity throughout the entire story. Your mother and aunt are both inspiring women. We feel this story would make an excellent movie."
-Richard J. Shenkus, Ph.D., and Noreen G. Shenkus
"This truly is an amazing period of her life that your mother documented. It is a story that was with me all day and will be for a long time."
-Delores(Coon Creek Farm)
"Best book about the holocaust I've read in a long time. It is hard to believe that it is all based on fact, and honestly told. Thank you for a good book."
-M. Davis
What makes "Through Maria's Eyes" unique goes beyond its' subject matter. The co-authors, David Rich and Linda Sunshine, are seeking to make a difference with the profits. 50% of net sales of the book, and subsequent film, are earmarked to be donated to organizations dedicated to keeping the stories of what happened in Europe from being forgotten.
The novel, "Through Maria's Eyes," is available for purchase on Amazon at:
http://www.amazon.com/Through-Marias-Eyes-Linda-Sunshine/dp/057806880X
The book is also available on its website, http://www.throughmariaseyes.com/.
###