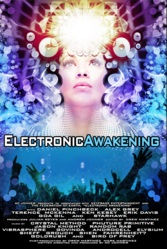 San Francisco, CA (PRWEB) September 21, 2011
The new ethnographic documentary, Electronic Awakening, will debut in San Francisco on Sunday, October 2, 2011 as part of a series of screenings in the U.S. and Europe.
Electronic Awakening is the new film from director A.C. Johner and producer Julian Reyes of Keyframe-Entertainment.
Doors open at 7:00 pm PST at Temple Nightclub, located at 540 Howard Street, San Francisco, CA 94105. The film begins at approximately 8:00 pm. Q&A with the director will follow. Tickets are available at http://Keyframe.eventbee.com/event?eid=827934284
In Electronic Awakening, director Andrew Johner lifts the veil on an underground spiritual movement that has developed within electronic music cultures worldwide. This close encounter with the mysticism of rave questions the origin of religion, and offers insight into the future of man's spirituality. It investigates this culture's significance to the prophecies of 2012, how this bizarre and sacral relationship to electronic music has evolved the group over time, and where it all seems to be leading them.
The film features footage from Daniel Pinchbeck, Alex Grey, Terence McKenna, Ken Kesey, Erik Davis, Starhawk, Michael Gosney and music by Shpongle, The Crystal Method, Random Rab, Phuture Primitive, Androcell, and many more.
The event will also be celebrating the San Francisco launch of the Electronic Music Alliance. The EMA is a 501(c)(3) organization founded by Janine Jordan of Green Wave, with a board of directors including members of The Crystal Method, and founders of Insomniac. The EMA is committed to promoting electronic dance music as a culture and an art, while at the same time creating a bridge of eco-awareness and activism between the electronic dance community and the world at large. They focus on educating, empowering, and setting people into eco-action through individual and community collaboration. With the introduction of the Electronic Music Alliance to the San Francisco dance scene they seek to inspire the community to become the "Sound of Change," and support planetary sustainability through various initiatives.
The event is open to the media. Please email Stephanie(at)keyframe-enterntainment(dot)com to RSVP.
Who: Interested members of the media, electronic music fans, spiritual seekers, etc.
What: Electronic Awakening screening, Q&A, and after-party featuring Androcell
Where: Temple Nightclub, 540 Howard Street, San Francisco, CA 94105
When: Sunday, October 2, 2011, at 7:00 pm PST
###http://electronicawakening.com/cast.html
###