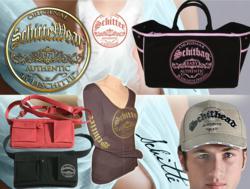 People from all walks of life love SchitteWear™.
Los Angeles, CA. (PRWEB) September 21, 2011
When The Original Schitbag™ flashed across the Times Square billboard last spring, it appeared the designer had solved a perennial problem: how to look sleek and stylish while wearing a purse around the waist. When Forbes wrote, "Schitbag Is the New Status Purse," it was clear the hands-free waist bag had finally met high fashion.
Now, LeSchitte Designs™, the company that created the Schitbag, has taken the next step with several new product lines. They've not only enhanced the glamour and utility of the diaper bag, the laptop messenger bag, and the tote bag--answering the needs of mothers, students, professionals, travelers, and fashionistas--the company has also applied the concept of fashion, function, and fun to its new lines of logo T-shirts, caps, and scarves.
People from all walks of life love SchitteWear™.
Mothers adore the Baby Schitbag™, a stunning utility diaper bag designed for both mother and baby. Organized compartments give quick access to bottles, diapers, toys, blankets, wipes, and more—even mom's wallet, cell phone, keys, makeup and credit cards. In 100% black cotton canvas with contrast piping and trendy embroidered logo, the Baby Schitbag is as fashionable as it is practical. As a shower gift, it's a showstopper.
Professionals demand a laptop messenger bag that is a portable center of operations and a symbol of success. The high-capacity Shanelle Messenger Schitbag accommodates a laptop, books, documents, and everything else. Students love the functionality and cool look. Two exterior side pockets offer quick access to a cell phone and other essentials, while the front flap conceals multiple zippered compartments and slots. The chic 100% cotton canvas bag is exquisitely detailed, with frayed edges, silver piping, and silver topstitching on the adjustable cross-body web belt and logo.
Women of all ages love the intelligent design of the Schitbag Millie Tote, which closes at the top with a heavy-duty metal zipper. The roomy canvas bag stands upright on a silver leatherlike base with metal "feet." Its handy compartments make rummaging a thing of the past.
Boys and girls, men and women are having serious fun with Schithead™ baseball style caps. The youth and hip hop cultures, including skateboarders and surfers, love the stretch flat bill cap, which sits high on the head and stretches to a custom fit with a stretchy sweatband. The traditional baseball cap has a large visor that offers sun protection. Both styles feature traditional six-panel construction and are made of 100% brushed cotton twill, the durable fabric used for professional players' caps.
Men and women of all ages have discovered the superior fit and luxurious feel of Schittees™, a line of T-shirts made of the finest 100% combed ringspun cotton jersey in the sexy thinness preferred today. A variety of crew-neck and V-neck, long-sleeve and short-sleeve styles feature subtle tailoring and artistic logos.
Women who love the feel of fine fabrics are wrapping themselves in SchitteWear's luxurious signature scarves with hand-rolled edges, frayed hems, and the trendy handwritten Schitte™ logo. This one-of-a-kind accessory is available in three lengths, an array of beautiful colors, and exclusive fabrics including 100% silk, a linen/silk blend, and a wool/silk blend.
SchitteWear™ by LeSchitte Designs™ is a fashion-forward company known for the use of optimum-quality materials, meticulous craftsmanship, and impeccable detail. All products are the exclusive designs of SchitteWear™ by LeSchitte Designs. They are available in selected stores and on the Internet at http://www.Leschitte.com. For more information, please call 1-888-254-3986.
###