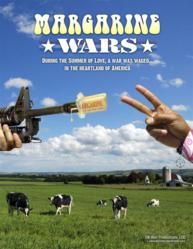 Chandler, AZ (PRWEB) September 22, 2011
Margarine Wars production team is a who's who of media and entertainment professionals, striving to make this film a box office hit. The production company behind this comedy is proud to announce a few key players in production, editing, and music.
DB Rich Productions LLC is set to release a new comedy in December 2011 called Margarine Wars. This film is about an Afro-Jew named Howard Schmear of New York who unexpectedly finds himself in a small conservative town in the middle of Wisconsin. In order to make money and get his van fixed, he must peddle the one substance that is deemed illegal in the town called Butterfield, Wisconsin. Howard sells margarine to the locals, causing both a stir and satisfied stomachs. This film takes a comedic look into the strange mannerisms of a small town.
DB Rich Productions LLC is excited to announce the additions to the production crew. The overall success of the film would not be possible without a few key people. These individuals are quite skilled as well as accomplished and they are excited to be working on an original comedy, like Margarine Wars. John Orland was named the Post Production Producer for Margarine Wars. John has been a Post Production Supervisor on over 40 films, making him a perfect fit for this production. In addition to John Orland, Tom Phillips of Kinetic Post is the lead editor for the film, Margarine Wars. Editing facility, Kinetic Post is located in Southfield, Michigan.
The film would not be complete without an original score to tie it together. The music for Margarine Wars is being handled by music producer, Lee Rudnicki. In addition to being the film's composer, Lee also serves as DB Rich Productions LLC's entertainment attorney. Lee Rudnicki has been in the music business for many years and he is an accomplished musician. The music licensing company Sir Groovy and music supervisor Gui Campellon will also be working with Lee by providing music for the film. Composer James Peterson has also signed on to write an original score for the comedy, Margarine Wars.
For information on Margarine Wars, you can visit the website http://www.margarinewars.com or Like the film's Facebook page at http://www.facebook.com/MargarineWars.
# # #