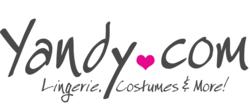 We like to shock people with costumes they never would have imagined to be sexy but end up flying off of the shelves because of their unique appeal
Phoenix, Ariz. (PRWEB) September 20, 2011
Every Halloween season, Yandy.com is known for offering customers the most exclusive, trendsetting and fashionable costumes on the web and this 2011 Halloween season is no exception. With more than 30 new costumes added to the already extensive exclusive costume collection, Yandy customers are sure to find something that sets them apart from the crowd this Halloween.
A few of these new Halloween costumes, found only at Yandy, include some "Under the Sea" themed outfits that feature various sea creatures and sexy animal costumes. The Sexy Shark Costume features a tube-style mini dress with a shark hood, complete with teeth. The Sexy Sea Turtle Costume includes a figure hugging corset top, mini skirt, arm warmers, sea turtle shell backpack and sea turtle hood. Another great exclusive to Yandy this year is the Darling Dolphin Costume that features a dorsal fin and a long, dolphin tail back.
"Our goal is to create new costumes every year that make people stop, look and want," says Chad Horstman, on of Yandy's CEO's. "We like to shock people with costumes they never would have imagined to be sexy but end up flying off of the shelves because of their unique appeal."
Every Halloween, Yandy works with some of the top costume designers in the industry to bring customers high end, high quality costumes that have yet to be done before. In years past, Yandy gained recognition for creating costumes like the Finding Clownfish Costume and Sexy George Washington Costume, the later of which was featured on FoxNews.com in 2010.
About Yandy.com
E-commerce is on the rise and Yandy.com is one of the largest online retailers of lingerie, sexy Halloween costumes, swimwear and clothing on the web. Founded in 2003, Yandy boasts more than 6,500 products always in stock at easily affordable prices. Yandy ensures that every costumer will receive a safe, secure and private online shopping experience and is backed by COMODO online security and Google Checkout. Yandy is dedicated to customer service and only sells what is in stock which allows for quick, same day shipping. Offering the highest quality products at the most affordable prices in the market, Yandy has become a leader in ecommerce. Yandy works closely with all of the manufacturers they distribute for and hand select all of the items on the Web site to ensure customers have the largest and most diverse collection to choose from. In addition, the customer service team at Yandy is unrivaled. With attentive and helpful operators, should a question or problem arise, the customer service team at Yandy is always willing and able to assist. At Yandy, every customer can Be Sexy.
###