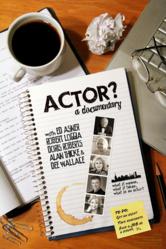 Chandler AZ (PRWEB) September 22, 2011
Filmmaker D. B. Rich wanted to provide a unique format for presenting the craft, challenges and formulas for a successful career. Rather than the typical "talking head" documentary format, Rich, in collaboration with the Digital Image Studios, will illustrate these sometimes funny, sometimes cautionary tales from an actor's life with innovative animation. Audiences can hear and see their faviorite actors Ed Asner("Lou Grant") and Dee Wallace("E.T.: The Extra-Terrestrial) as they describe their early struggles alongside hundreds of other aspiring stars. The use of animation allows the film to use these actors' anecdotes and set them in an illuminating context that allows their stories to come to life in a whole new way.
Digital Image Studios has already brought their impressive artistry to feature films like the "The Warrior King" and "The Illyrians," as well as a variety of Reality TV programs like "Moving Up" and "Hidden Potential." The Michigan Film Office chose Digital Image Studios for their website opening graphic. Their experience in 3D, CGI and special effects made them a perfect choice for "Actor?: The Documentary" and its unique set of challenges. Digital Image Studios will not only provide the animation and post-production on the film, but also create the music and complete the DVD authoring for the project.
Whether you have contemplated the acting profession or simply love to hear the behind-the-scenes details, these performers from stage, screen, television and even street theatre will provide a new and fascinating view of the acting craft. The journey from aspiring hopeful to working professional in the acting world can be a difficult journey, filled with nerve racking auditions, scrutinizing casting directors and painful struggles. Yet these actors have all survived those hurdles to enjoy their moment in the spotlight and, in some case, glow in the reception of a job well done. "Actor?: A Documentary" will give audiences the opportunity to see and hear every step along the way.
"Actor?: A Documentary" will be released in October 2012 by DB Rich Productions LLC, the film company behind original, independent movies like "Through Maria's Eyes," a dramatization of the true story of one Jewish woman's survival in World War 2 Hungary where she posed as a Christian in the midst of an anti-Semitic world. DB Rich Productions also created "Margarine Wars," a surprising but factually true tale about Wisconsin's butter laws.
###