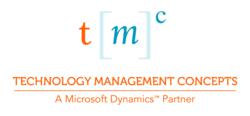 TMC encourages its employees to broaden their knowledge on all aspects of the accounting software industry by continuing their education and pursuing advanced certificates
Los Angeles, CA (PRWEB) September 22, 2011
Technology Management Concepts (TMC) is thrilled to announce that Colleen Yap passed the Microsoft Dynamics GP 2010 Project Accounting exam. This is one more achievement to her growing list of Microsoft Certifications. This exam measures your ability to understand and explain the windows and processes involved in the configuration and use of the Microsoft Dynamics GP 2010 Project Series application module. This includes knowledge of the terms and concepts used in the module, and the ability to identify and convey solutions to other users.
"TMC encourages its employees to broaden their knowledge on all aspects of the accounting software industry by continuing their education and pursuing advanced certificates" says Eron Strang, TMC's Consulting Manager. Jennifer Harris, TMC's Chief Executive Officer also adds "We understand that each of our customers will have different needs so it is crucial for TMC to stay current with the ever-changing accounting software industry, especially Microsoft Dynamics GP. Employees such as Colleen contribute their expertise to TMC, making them one of the premier Microsoft partners. All of our employees work hard to stay current on their knowledge of the field so that they are able to be a true partner in understanding and meeting the needs of our clients."
Colleen attended Ateneo de Manila University & De La Salle Universities in the Philippines and graduated with BS Management major in Accounting, MS Information Technology.
Colleen has been an Implementation Specialist with TMC for over three years. Over her career she has implemented Microsoft Dynamics GP (formally Great Plains) projects in four different countries and has worked with over 100 clients. Her latest achievement joins a growing list of certifications including Business Management Solution Specialist in the following areas:

Financials for Microsoft Dynamics GP 2010
Distribution for Microsoft Dynamics GP 2010
Report Writer for Microsoft Dynamics
Installation & Configuration for Microsoft Dynamics
Colleen also has certifications in Microsoft Certified Database Administrator (MCDBA) and Microsoft Certified Systems Administrator (MCSA).
TMC is a leading Microsoft Dynamics Gold Certified Partner in Southern California, specializing in Microsoft Dynamics products for companies of all sizes and locations worldwide. Our consultants come from diverse backgrounds and locations. This unique combination of CPA's, MBA's, accountants and/or past controllers and CFO's give this group a unique combination of software knowledge and practical business application has proved to be a winning success.
TMC was founded in 1984 and has been growing ever since. TMC is known for high quality implementations and long lasting relationships with both their customers and employees. For more information, visit their website at http://www.abouttmc.com.
###