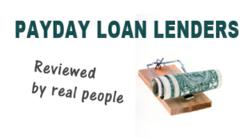 Researching and comparing payday lenders is as important as comparing auto and mortgage loan providers.
New York, NY (PRWEB) September 22, 2011
When it comes to securing a payday loan online, there are many options available. We habitually compare auto and mortgage loan companies but seldom does it occur to us that researching cash advance lenders should be of equal importance. PaylessPaydayLoans.com will help do just that - research and compare personal loan lenders. The site features consumer rankings for top online payday loan companies in U.S. One can sort lenders by state of residence which especially comes handy these days because of differences in state regulations pertaining to payday loans.
Each company on the list has been reviewed by real customers who went through the application and loan approval process with the lender. This adds an extra layer of trust and security for users. The ranking system employs several indicators, including:
1. Approval Rate
The number of approved applications for the lender as a percentage of the total number of approved applications for all lenders.
2. Simplicity and Speed of the Application Process
Combines such factors as the length of the application; application turnaround times (e.g. instant approval), # of required documents, etc.
3. Loan Terms and Costs
Flexibility of the loan terms (the availability of short-term and long-term installment loans, etc.), average approved loan amounts, Annual Percentage Rates (APRs), etc.
Finding answers to many questions about payday loans has never been easier with the new FAQ section of the site. For instance, most of us still believe that our Social Security Number is asked for in order to run a credit check. But the truth is SSN is used solely for identification and teletrack verification purposes, in most cases. One's credit history is never a decision factor when it comes to payday loans. This type of personal funding is perfect for people with bad credit who are often rejected by mainstream credit card companies and banks.
One of the more advanced features planned for this month release will provide a comprehensive report on bad credit sources for short-term and long-term personal loans. This report will be free of charge and will include a detailed list of lenders with in-depth descriptions, analysis and rankings by real customers.
The U.S. payday loan industry is quite volatile due to many legislative initiatives sponsored by individual states to protect ordinary borrowers from predatory lending practices some lenders have been known for. These initiatives range from interest rate and maximum loan amount caps to loan repayment terms, max # of issued outstanding loans per borrower, the borrower's income verification procedures, and so on. In view of these recurring changes, a new legal section is being developed that will list current payday loan regulations for each state. This will allow users to make better educated decisions concerning cash advance loans.
CONSUMER NOTICE: A payday loan, also referred to as cash advance, should be used for urgent or emergency expenses, such as paying a cell phone or electricity bill. Such a loan may also serve as a "bridge" between paychecks to leverage personal finances.
# # #