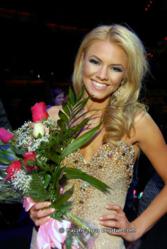 Los Angeles, CA (PRWEB) September 21, 2011
When Miss California USA 2011 Alyssa Campanella went on to be crowned Miss USA 2011, that meant that first runner up Katherine Blair, who is a Graduate of the fashion school FIDM, received a new title. The 23 year-old will serve the term until Miss California USA 2012 is crowned in January.
Katherine, who also goes by Katie, is a graduate of the fashion merchandising program at FIDM and plans to pursue an additional degree in Business Management at the fashion college after she fulfills her pageant duties. She has been active in pageants for numerous years and is the former Miss Teen USA 2006 winner.
Prior to moving to Los Angeles, she lived in Sugar Land, Texas and Billings, Montana, where she graduated high school. During her current reign, Katie plans to work with the Make-A-Wish Foundation, the anti-bullying organization Love is Louder, and the No H8 campaign, a silent protest in support of same-sex marriage.
Katie most recently made an appearance at Fashion's Night Out at Beverly Center in Los Angeles on September 8, 2011. She appeared alongside stars such as Nicole Richie, Randy Jackson, and Vogue's West Coast editor Lisa Love and took photos with fashion fans.
FIDM/Fashion Institute of Design & Merchandising is a co-educational, specialized, private college dedicated to educating students for the Fashion, Graphics, Interior Design, and Entertainment industries. Known as a one of the top fashion design schools, FIDM is also a leading graphic design school and digital media college. Visit fidm.edu for more information.
###