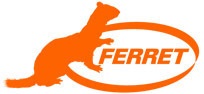 Van Nuys, CA (PRWEB) September 23, 2011
The Ferret, brought to you by Panoscan Inc, is an easy to deploy and low profile "robot camera" that moves effortlessly under even the lowest profile vehicle. It features a movable color video camera with onboard lighting. The Ferret works day or night, and it sees up and around hard to investigate drive shafts and deep into wheel wells.
From big trucks to low clearance sports cars, The Ferret moves quickly under remote control, and its wireless, real-time video camera "eyes" transmit razor-sharp images safely from up to 300 meters away.
The Ferret features video eyeglasses and a belt clip receiver that allows for thorough inspection of a vehicle in less than 20 seconds. The Ferret's hot swap power supply allows for continuous operation, while off-the-shelf batteries and chargers can be found at hardware supply stores everywhere.
The Ferret's weatherproof housing keeps the camera, lights and transmitter dry and the circular body eliminates getting stuck in a corner. With The Ferret there are no ramps or control cables to set up; there is no need to enter the vehicle. This nimble robot goes from its airline ready, ruggedized carrying case to full search mode in under 30 seconds.
If you'd like to take The Ferret for a test drive, contact us at 855-ROBOT4U, or visit us online at http://www.generalrobotics.us.
You can also follow us on Facebook:
http://www.facebook.com/panoscan/241697769201057
http://www.facebook.com/theferret/261102323912218
and Twitter:
@TheFerretRobot
###