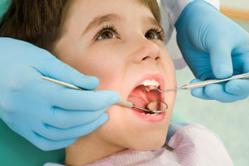 When it comes to dental health, proper education and good habits go a long way, and those early habits can last a lifetime.
Glendale, Queens, NY (PRWEB) September 21, 2011
Recent statistics released by the American Dental Association show that tooth decay has been declining but in some areas tooth decay continues to be problematic. While this is certainly a positive sign, Queens pediatric dentist Wai Yee Chung, DDS points out that more work remains if children across the country and around the world are to grow up with healthy dental habits and healthy teeth.
Dr. Wai Yee Chung points out that those rates of tooth decay in young children are indeed declining, but that does not mean that those kids are free of dental problems. In fact, Dr. Wai Yee Chung sees an alarming number of pediatric root canals in the children she treats. This procedure, known in the dental business as a pulpotomy, is a major source of concern for children, and for their parents. These procedures are often the result of excessive sugar consumption, something that is all too common in young children, teens and adults. Root canals can also be the result of poor dental hygiene early in life, something that is difficult to overcome even with superior dental care later on.
That is why Dr. Wai Yee Chung stresses the importance of ongoing preventative care, starting as soon as that first tooth comes in. It is up to parents to teach their children good dental hygiene habits, like brushing their teeth twice a day with a quality toothpaste containing fluoride. Parents should also limit the number of sugary snacks their children consume, including those sugary sodas and soft drinks that can lead to not only tooth decay but obesity as well.
Dr. Wai Yee Chung also recommends that young children start their visits with a qualified pediatric dentist as early in life as possible. Establishing an ongoing relationship with a pediatric dentist helps young children and their parents develop the healthy dental habits that are so important to a healthy, happy and active life. Dr. Wai Yee Chung is proud of the pediatric dental practice she has built for her young patients, and she works with those children and their parents to keep their teeth and gums as healthy as possible. Dr. Wai Yee Chung, DDS has a strong focus on education, helping to teach both parents and children about the importance of proper dental hygiene starting from a young age.
That is why Dr. Wai Yee Chung, along with the rest of the staff at Atlas Park Dental in Queens, New York work so diligently to create a welcoming and friendly environment for kids and their parents. When it comes to dental health, proper education and good habits go a long way, and those early habits can last a lifetime. Whether it is eating a healthy diet or brushing and flossing regularly, the habits children learn when they are young can carry over into their teen and adult years. That is why Dr. Wai Yee Chung places such an emphasis on not only treating, but also educating, her youngest dental patients.
Dr. Wai Yee Chung Atlas Park Dental
Dr. Wai Yee Chung is located at 80-28 Cooper Avenue, Building 6, Suite 207, Glendale, NY 11385. Atlas Park Dental, P.C.offers a full range of dental services from root canals to smile makeovers and is open 7 days a week. Visit us online http://www.atlasparkdental.com or call us locally at 718-894-2110.
###