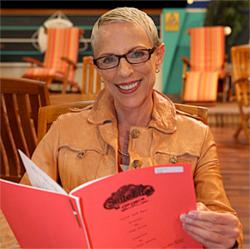 I've always wanted to do a show where kids get to ask other kids questions and talk about things that are happening in their life
Beverly Hills, CA (PRWEB) September 22, 2011
Teen advice web show, ASK SKYLAR, is a new weekly YouTube show featuring fifteen- year old Skylar Marks offering personal advice to teens who've written in questions to Skylar. Teens submit their questions by email and on YouTube for Skylar to answer on the show. ASK SKYLAR is produced by teen Executive Producer, Irene Dreayer as the first show for Ms. Dreayer's up-and-coming teen channel, The DW.
Skylar was cast after winning The Dray's weekly talent contest "Wanna Be A Dray Kid?" on The Dray Way Facebook page. The Dray created the show because she felt it was important for kids to be able to connect with other kids going through similar teen life experiences. The Dray specifically cast contest winner, Skylar Marks, because she felt Skylar best exemplified the sensibility required to be today's modern Dear Abby for teens.
"I've always wanted to do a show where kids get to ask other kids questions and talk about things that are happening in their life", says The Dray, Executive Producer of shows "The Suite Life of Zack and Cody" and "The Suite Life on Deck".
Questions from teens deal with issues such as being bullied, getting along with siblings, academic pressures, peer pressure, dating, pursuing dreams and being misunderstood by parents. ASK SKYLAR is broadcast from her bedroom at youtube.com/askskylar with honest guidance, humor and stories of her own personal experiences.
"It was important for the show to be funny and approachable so kids would feel good about participating in the show. Skylar with her great comedic timing and intelligence has been the perfect "teen advisor" for the show," says The Dray, "She even wrote and performs the show's theme song!"
ABOUT THE DRAY WAY
The Dray Way is an entertainment career coaching service for kids, a digital teen channel and digital community with the goal to "omni-cast" the type of programming for tweens and teens not found on The Disney Channel or Nickelodeon. The Dray Way is an interactive channel with shows cast from our community of talented kids under the direction of star maker Irene Dreayer (The Dray), Hollywood's #1 kid talent expert and trusted career coach for kid talent. The Dray is a veteran Executive Producer for The Disney Channel, The WB and ABC Family.
For more information please visit http://www.youtube.com/askskylar and http://thedrayway.com.
###