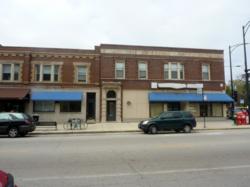 The nationals are showing strong interest in the Southport Corridor once again...the buzz is back, and it's a coveted area.
Chicago, Illinois (PRWEB) September 22, 2011
JAB Real Estate Opportunity Funds, with $15 million in private equity focused on multi-family and retail investments on Chicago's North Side, announced that it has entered into a lease with Vancouver-based athletic apparel retailer Lululemon Athletica, for a store at 3550-56 N. Southport, in the Southport Corridor.
The 4,000-square-foot lease brings the building, which the fund acquired earlier this year, to full occupancy. It is also another major step forward for the Southport Corridor, a two-block stretch of boutiques and restaurants along Southport Avenue in Lakeview, which struggled with high vacancy during the credit crisis but has come charging back over the past year.
The heart of the Southport Corridor runs from Addison Street on the north to Roscoe Street on the south. Along with Armitage Avenue in Lincoln Park and Damen Avenue in Bucktown, it is considered one of the North Side's premier boutique shopping districts. The Lululemon store will be located at the southwest corner of Southport and Addison, the gateway to this key stretch.
According to Frank Campise, principal of JAB Real Estate Opportunity Fund II, the vacancy rate for the Southport Corridor's 110,000 square feet of retail space peaked at around 25 percent, or about 27,000 square feet, last year. Today it stands below 5 percent. Campise anticipates most of the vacant retail space on the street will be leased by the end of the year. He said average rents have climbed about 25 percent, from around $30 per square foot 12 months ago to $37.50 today.
"The nationals are showing strong interest in Southport once again," said Campise. "The street was right on the cusp in 2008, and then it retreated. Today the buzz is back, and it's a coveted area."
JAB Real Estate Opportunity Fund II and its principals have completed a number of transactions in the Southport Corridor within the past year, including the acquisition of 3550-56 Southport for $3.6 million in June. Two acquisitions outside the fund include 3446 N. Southport and 3447 N. Southport, where another national apparel retailer, Free People, owned by Urban Outfitters Inc., occupies 2,400 square feet.
In addition, Campise said the fund is under contract on a handful of multi-family acquisitions with closings anticipated later this year. "We see opportunity for strong rent growth in the multi-family sector on the North Side as Class A apartment rents downtown set record highs," he said.
JAB Real Estate Opportunity Funds will leverage approximately $60 million in acquisitions, targeting both distressed and value-add opportunities. Fund II is currently 75-percent deployed, according to Campise. JAB's first fund is fully deployed.
Chris Irwin, vice president of Jameson Commercial, represented JAB in its lease with Lululemon Athletica.
JAB Real Estate Opportunity Fund II, is co-managed by Frank Campise and Jim Jann, principals in JAB Real Estate Inc. Established in 1998, JAB Real Estate Inc., has successfully developed, owned and managed apartment, condominium, single-family and retail properties in the Southport Corridor, Wrigleyville, Ravenswood, Lincoln Park and throughout Chicago's North Side.
Media Inquiries: For more information, contact Peter Olesker, 773-519-5500, peterolesker(at)gmail(dot)com.
###