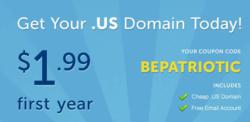 Passing on cost savings is an extremely important part of who we are. It's why we are Namecheap
(PRWEB) September 21, 2011
Leading domain name registrar Namecheap is currently offering .us domain names for just $1.99 for the first year using a special coupon code. Users who log into their Namecheap accounts and use the promotional code BEPATRIOTIC can buy .us domains at the price of $1.99, a savings of 72% off the standard $6.99 cost.
"Our .us domain names are very popular at Namecheap, and we are offering this special limited time promotion to encourage support of the .us registry while also letting our customers know that passing on cost savings is an extremely important part of who we are. It's why we are Namecheap," Richard Kirkendall, CEO of Namecheap, said.
The $1.99 .us deal is offered for a limited time at this discounted price and customers can purchase up to 5 domains per account.
For more information on the limited time opportunity, visit the $1.99 .us pricing announcement.
About Namecheap
Namecheap is a Los Angeles-based ICANN accredited domain registrar, founded in 2000 by CEO Richard Kirkendall. With over 500,000 clients and millions of domain names under management, Namecheap is one of the top domain registrars in the world. Find out more by visiting us at http://www.namecheap.com.
# # #