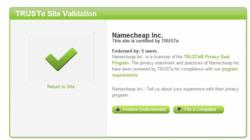 (PRWEB) September 22, 2011
With over 10 years of experience in the domains, web hosting, and SSL market, the Namecheap Group has recognized the importance of privacy and security for its customers. After a rigorous audit, the Namecheap Group is proud to announce that it has obtained a TRUSTe Verified Program Certification to ensure that the privacy of all loyal customers are maintained. After careful review of its privacy policies, TRUSTe has granted Namecheap.com and CheapSSLs.com certification in the company's privacy practices.
"The TRUSTe certification is a highly esteemed certification, and we are delighted to have passed the in-depth review of our privacy policy," Richard Kirkendall, CEO of Namecheap said.
With TRUSTe, customers can ensure they are doing business with only the most trustworthy of websites. Companies that display the TRUSTe seal comply with the highest standards for protecting customers' personal information.
About Namecheap
Namecheap is a Los Angeles-based ICANN accredited domain registrar, founded in 2000 by CEO Richard Kirkendall. With over 500,000 clients and millions of domain names under management, Namecheap is one of the top domain registrars in the world. Find out more by visiting us at http://www.namecheap.com.
###