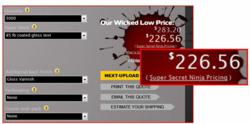 We take the custom out of custom printing.
Columbia, MO (PRWEB) September 22, 2011
Already known as the lowest price printing provider on the planet, PrintNinja just strengthened its competitive position with its new Super Secret Ninja Pricing™.
"These are the lowest prices on brochure printing and booklet printing that you'll find anywhere on the planet," says Potterfield.
"It's no secret that print shops like to run efficiently. They're willing to lower their prices when they find those efficiencies. Every print shop that I know would rather print eight 5,000 piece jobs than six 4,000 piece jobs and two 6,000 piece jobs."
"So it seems totally backwards for 2011, but PrintNinja is helping customers by 'taking the custom out of custom printing.' If customers can see their way clear to ordering at our natural efficiency points, we'll share the cost savings with them – and the cost savings are dramatic."
Customer Service Manager Marcia Doll explains, "With this pricing system, we strip everything down to the bones. We include the most popular options and share the efficiencies. Customers are a single click away from seeing their options with our special PrintNinja pricing interface."
How Cheap is Cheap? A leading online provider offers 5,000 8.5"x11" tri-fold brochures on 80# coated gloss text for about $554.00. PrintNinja normally offers the same product for only $283.20 – a savings of more than 48%. Click the Super Secret Ninja Pricing button and the price drops to $226.56 - a total savings of nearly 60%. Says Potterfield, "Now that's what I call cheap brochure printing!"
In another example, the same leading provider offers 10,000 8.5"x14" flyers on 80# coated gloss text stock for about $1250. PrintNinja offers the same product for $719.24, a savings of more than 42%. With Super Secret Ninja Pricing, the price drops to an unbelievable $575.39 for an incredible 54% savings.
"In a tough economy – or any economy for that matter – knowing how to buy at the right price remains a critical component to maintain profitability in any business," says Daniel Chen, Printing Business Operations Manager. "Our mission is to develop cutting-edge tools and help our customers save money on printing costs. We offer these low prices with style and we offer them with quality guarantees - we never sacrifice the quality of our product."
Contact PrintNinja at 877-396-4652 or http://www.printninja.com for more information, a custom quote or samples of their work.
PrintNinja is a Columbia, Missouri-based company providing U.S. customers with wicked-low prices on printed goods from China while delivering traditional American quality and service standards.
###