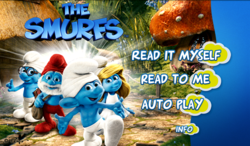 Children's books on NOOK Color™!
Santa Barbara, Calif. (PRWEB) September 21, 2011
iStoryTime, the largest library of mobile children's book apps, today announced that a number of its top selling iOS storybook apps, Kung Fu Panda 2, How To Train Your Dragon and THE SMURFS™ are now available on the NOOK Color™ from Barnes & Noble, Inc. Offering these well-known and beloved titles on one of the best value tablets on the market brings the enjoyment of an enhanced reading experience that iStoryTime is known for to a new audience of parents and their children. The NOOK Apps are available now for $2.99.
"We are very impressed with the NOOK Color's capabilities and are very pleased to offer high-quality children's books to its vast community," said Graham Farrar, founder of iStoryTime. "These titles are three of our best-selling children's books and we have no doubt they will be a hit on Barnes & Noble's remarkable tablet."
The NOOK Color features a stunning 7-inch VividView™ color touchscreen ideal for reading a wide variety of content including books, enhanced books, immersive children's picture books, an expansive collection of interactive magazines, newspapers and more. The best value tablet at just $249, NOOK Color also offers the most-requested tablet features, including high-quality NOOK Apps™, built-in e-mail, and an enhanced Web experience.
"Barnes & Noble is excited to partner with an innovative company like iStoryTime," said Claudia Romanini, director of developer relations at Barnes & Noble. "NOOK Color's 7-inch touchscreen is perfect for iStoryTime's colorful and engaging children's book apps. We know parents and children will love seeing these stories come to life on NOOK Color."
The Kung Fu Panda 2 storybook contains original images and character voices directly from the movie for an immersive story experience. The story follows Po as he lives his dream as the Dragon Warrior protecting the Valley of Peace alongside his friends and fellow kung fu masters, the Furious Five – Tigress, Crane, Mantis, Viper and Monkey. But Po's new life of awesomeness is threatened by the emergence of a formidable villain who plans to use a secret, unstoppable weapon to conquer China and destroy Kung Fu.
"The tablet market continues to be a very important part of ensuring that fans of our movies can enjoy our stories and characters whenever and however they want to," said Kristy Cox, Head of Worldwide Publishing at DreamWorks Animation. "We're delighted with iStoryTime's ability to develop a high-quality digital storybook that provides an interactive and fun reading experience and are excited to expand to the NOOK Color."
The Smurfs storybook follows the magical little creatures Papa Smurf, Grouchy, Brainy, Clumsy, Gutsy, and Smurfette on their exciting and unimaginable journey to a faraway land called New York City. Fleeing the Evil Wizard Gargamel and his sneaky cat Azrael, the six Smurf friends end up in the apartment of a young couple who is equally surprised by their arrival. With their special humor and great hearts, the Smurfs turn their world upside down and bring fun and action to their everyday routine.
The How to Train Your Dragon storybook, also including images and voices directly from the movie, is set in the mythical world of burly Vikings and wild dragons. The action comedy tells the story of Hiccup, a Viking teenager who doesn't exactly fit in with his tribe's longstanding tradition of heroic dragon slayers. Hiccup's world is turned upside down when he encounters a dragon that challenges him and his fellow Vikings to see the world from an entirely different point of view.
iStoryTime brings the joy of a kids' book to the convenience of the NOOK Color™ as well as the iPhone, iPad and iPod® touch. iStoryTime books are illustrated and narrated, so children can enjoy the book even when parents are busy. Best of all, the apps are simple to use because they are designed for kids two-years and up. Pages can be turned automatically or manually depending on the age and preference of the user.
iStoryTime is the perfect way for parents to entertain their children while waiting to go to dinner at a restaurant, on a long airplane or train trip or even when they need a few more minutes to finish grocery shopping. And of course, it's a great way to enjoy a story before bedtime. iStoryTime provides great books to entertain and educate kids on the go.
To stay up-to-date within ongoing news about iStoryTime, please visit us on our Facebook fan page at http://www.facebook.com/iStoryTime.
About iStoryTime
iStoryTime - an interactive storytelling experience delivered to the convenience of your mobile device - features a series of illustrated and narrated books created by parents for kids. iStoryTime books have been highlighted in the New York Times, LA Times, CBS Early Show, theiPhoneMom.com, CNET and is decorated with PTPA Media's Parent Tested Parent Approved Seal of Approval and the Children's Technology Review's Editor's Choice Award. With over 100 titles to choose from including favorites such as Kung Fu Panda, Shrek, How to Train Your Dragon, Peter Pan and Binky the Pink Elephant, iStoryTime books are an excellent tool for both educating and entertaining children ages two years and up. These storybooks can be enjoyed in several different modes ranging from automatic to manual, depending upon the development and preferences of the user. For additional information, visit http://www.iStoryTime.com.
About Barnes & Noble, Inc.
ABOUT BARNES & NOBLE, INC.
Barnes & Noble, Inc., the world's largest bookseller and a Fortune 500 company, operates 704 bookstores in 50 states. Barnes & Noble College Booksellers, LLC, a wholly-owned subsidiary of Barnes & Noble, also operates 635 college bookstores serving over 4.6 million students and faculty members at colleges and universities across the United States. Barnes & Noble conducts its online business through BN.com (http://www.bn.com), one of the Web's largest e-commerce sites, which also features more than two million titles in its NOOK Bookstore™ (http://www.bn.com/ebooks). Through Barnes & Noble's NOOK™ eReading product offering, customers can buy and read digital books and content on the widest range of platforms, including NOOK devices, partner company products, and the most popular mobile and computing devices using free NOOK software.
General information on Barnes & Noble, Inc. can be obtained via the Internet by visiting the company's corporate website: http://www.barnesandnobleinc.com.
NOOK Simple Touch Reader™, NOOK 1st Edition™, NOOK 1st Edition Wi-Fi™, NOOK Color™, Reader's Tablet™, Fast Page™, NOOK Books™, NOOK Bookstore™, NOOK Newsstand™, NOOK Magazines™, NOOK Newspapers™, NOOK Apps™, PubIt!™, NOOK Kids™, Read In Store™, More In Store™, NOOK Friends™, LendMe®, NOOK Library™, NOOK Boutiques™, The Barnes & Noble Promise™, NOOK Books en español™, NOOK Study™, Free Friday™, Lifetime Library™ and Read What You Love. Anywhere You Like™ are trademarks of Barnes & Noble, Inc. Other trademarks referenced in this release are the property of their respective owners.
Follow Barnes & Noble on Twitter (http://www.bn.com/twitter), Facebook (http://www.facebook.com/barnesandnoble) and YouTube (http://www.youtube.com/user/bnstudio).
Media Inquiries
Greg Dawson, iStoryTime
509-901-7444
greg(at)istorytime(dot)com
Carolyn Brown
Corporate Communications
Barnes & Noble, Inc.
(212) 633-4062
cbrown(at)bn(dot)com
###