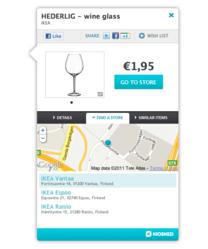 Kiosked provides consumers with instant access to more information, along with the possibility to make an on or offline purchase.

Micke Paqvalén, Founder and CEO, Kiosked
Helsinki, Finland (PRWEB) September 21, 2011
All images in the Kiosked Image Bank are automatically embedded with "Smart Kiosks," which enables the purchase of relevant products and services. This means that consumers can click and open kiosks in the images and make instant purchases. Kiosked images are not only legal and free to use by bloggers, photographers and other online publishers, but also enables them to earn money whenever a purchase is made on them.
Kiosked provides millions of images and products with almost ten thousand brands represented. The number is growing rapidly with more than 50,000 images and products added daily.
"Kiosked turns any online content into a marketplace. This is what we call the Web Wide Shop," says founder and CEO Micke Paqvalén. "People get shopping impulses from online content, for example, when they see a good looking lamp, golf glove or t-shirt on a blog's image. Until now, there has been no easy way of buying or getting information about the products they see without having to separately search for them. Kiosked provides consumers with instant access to more information, along with the possibility to make an on or offline purchase, find the closest merchants, save products in a wish list, and share them with friends."
Until now, it has been difficult for bloggers to know which images they can use as up to 85% of them violate copyrights. (Getty Images, 2011)
"All images in the Kiosked Image Bank are free of any legal hassle," Paqvalén says.
"Fashion, home décor, and music blogs are very popular. Bloggers are already sharing information and reviews of products that they find, use, and like. But any earnings for bloggers have been mainly based on banner ads – if even that. Kiosked images enable bloggers to start earning with high quality and impulse generating content. Each purchase made using Kiosked images will generate earnings for the blogger and photographer," says founder and COO Antti Pasila.
"This is just the beginning," Pasila continues, "Kiosked will soon bring stores to all online content – at the moment when a shopping impulse is born. Further on we will also give everyone the opportunity to add kiosks to any content themselves."
Press photos can be downloaded at:
http://www.netprofile.fi/pressphotos/kiosked
About Kiosked
About the Company: Kiosked has been selected as one of the finalists at the Arctic15 start-up event. The event, which is organized in Helsinki on September 22, 2011, showcases the best start-ups in the Nordic and Baltic rim. Kiosked has also been selected as one of the top 20 European start-ups for the White Bull 2011 finals. Previously the founders have been awarded the European ICT Grand Prize and the Best Enterprise Software solution at the Mobile World Congress. The reliability of Kiosked-enabled sites is validated and controlled by Web of Trust and their worldwide community of more than 25 million users.
About the service: Kiosked brings instant online shopping to consumers - wherever they are. The new end-to-end scalable sales platform, Web Wide Shop, enables advertisers to link their offering to relevant impulse-generating content distributed all across the web. An easy-to-use dashboard allows for efficient monitoring and management of the distribution, and on-demand tuning of the offering displayed. Integrated in any online content and indicated by Kiosked icons, kiosks provide consumers with instant access to more information, along with possibilities to make on- and offline purchases, save information for later, and share with friends. Publishers and bloggers earn sales commissions without having to display annoying banner ads luring visitors from their sites. Further information: http://www.kiosked.com.
###