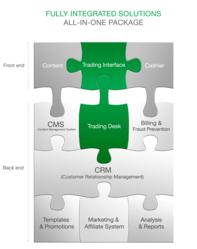 Nicosia, Cyprus (PRWEB UK) 21 September 2011
TradoLogic, the world's leading binary options platform provider, has publicly revealed its new and improved licensee infrastructure. The fully integrated solution is offered in an all-in-one package, allowing operators to quickly launch their platform using readily available, pre-integrated components. The modular business structure now includes company-wide features such as fraud prevention, billing, analysis, reporting and a CMS system, while existing components such as risk management and the trading interface have been vastly improved.
TradoLogic's new fraud prevention system offers cutting-edge tools, both automatic and manual, to identify risky clients - preventing operators from falling victim to chargebacks and ensuring the safety of their regulatory status. The billing system allows the operators to control and manage all transactions in the system and includes support for various types of transactions (demo, bonus and real), detailed reporting and an entire section dedicated to managing and controlling client withdrawals.
The new analysis and reporting component reflects TradoLogic's understanding of the importance of analytical reports and how they help accelerate a brands business. The analytical reports produce a wide range of key information such as Usage Reports, Profit/Loss Reports and Revenue Reports, as well as providing the ability to create custom reports. Charts and statistics are transformed into simple, easy-to-use reports, which are downloadable to Excel, CSV and Word.
TradoLogic's CMS module manages and controls the dynamic website content: banners, reviews, blogs and integration of social networking sites are all easily customized through the interface. The Customer Relation Management (CRM) system allows brands to fully control the site's users – registered traders or casual visitors. This system includes features such as managing retention campaigns, coupons, real prizes, community features and integration with Live Person and other virtual chats clients.
The trading desk software includes a sophisticated, fully-automated pricing module that can be set according to bookmaking and global market conditions. Brands can fully customize their virtual exchange starting with the type of options available for trading, markets and instruments they would like to offer, when, for how long and to which target audience. In order to constantly monitor site activity, this module also offers a smart dashboard for risk analysis, site activity review and detailed statistics.
Affiliate tracking and marketing software is available for managing an affiliate marketing program, with a reward system for the affiliates per deposit, per click, or per lead. This assists brands in increasing web site traffic volume and translating it to an increase in sales.
The robust, fully functional, and simple-to-use Back Office, along with the updated components, proves that TradoLogic are offering a flexible, turnkey solution that accommodates the requirements of a diverse range of binary operations. TradoLogic's licensees, operating globally, will be able to customize practically every aspect of their platform, specifically constructing their brand to reach the targeted customer base. The icing on the cake is that despite the often complex integration process of external components, TradoLogic is able to maintain an impressively short time-span of 4 to 6 weeks from the initial design of the platform to its launch.
###