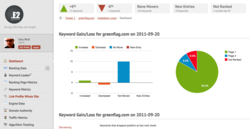 We wanted to create the most cost effective way of collecting SEO data and turning that data into insight
London, UK (PRWEB UK) 23 September 2011
E2 today announces the launch of its new global SEO platform for agencies and in-house teams who want a cost effective, time saving solution for their SEO campaigns that can be scaled to tens of thousands of keywords across all major markets. Founded in April 2011 by Gary Reid, who left his position as board director and head of search at media agency Carat UK to set up E2.
In just 5 short months the small development team has written over 120,000 lines of code to create a SaaS SEO platform that collects, analyses and produces instant insight from over 100 SEO metrics. In that time E2 has had both SEO agencies and brands testing and helping to create the platform. With everything from on-page analysis and page speed, to social media and link profiles, E2 analyses a cross section of competitors for every keyword added.
Gary Reid, MD and founder of E2 said. "We set out to solve a very common set of challenges. SEO data is not all in one place, it's not quick and easy to collect manually and SEO practitioners were left spending a disproportionate amount of time carrying out mundane tasks. We wanted to create the most cost effective way of collecting SEO data and turning that data into insight."
Of course data collection is just one challenge, having too much data can be worse than not enough, so being able to quickly see the story in the numbers and gain intelligent insight is key. Reid adds. "Once you've collected the data if you don't have a data platform you then have to wrangle a large spread sheet to try and gain insight to enable effective planning. So it was vital that E2 analysed the data to give instant insight."
It seems E2 has managed to achieve its goal, Tom Lowes, Online Marketing Executive at Sykes Cottages, one of the brands involved in beta testing E2, says. "The E2 platform provides the most comprehensive SEO data available anywhere online, incorporating very detailed analysis of on page SEO, off page SEO and social media. The true value of the platform however is in its ability to present the data in an immediately actionable form. With such great insight, the platform is extremely valuable to SEO's and even CEO's."
Of course for agencies these challenges are multiplied with numerous client campaigns to plan and track across a large team of SEO practitioners. For this E2 provides a single login to manage all of an agency's SEO campaigns. Here the platform gives clients confidence that corners aren't being cut, data is being collected and analysed and their SEO campaign is based on data and not just one person's opinion. This type of transparency and professional campaign planning is what both clients and agencies have been searching for.
By putting data collection on autopilot and creating a robust and comprehensive analysis engine E2 simplifies planning, providing intelligent insight and on-demand reporting that will help SEO's save time and get results quicker. With E2's built in campaign planner you can assess the value of different scenarios across hundreds of keywords, see exactly how difficult the task would be for each one and then set a campaign to monitor your progress, all in minutes not days.
About E2: Developed to empower marketing professionals and provide true insight into your SEO campaigns. The E2 SEO Platform helps you work faster, better, cheaper. Our aim is to provide the most cost effective way of collecting SEO data and turning that data into insight. Built by SEO professionals to enable data driven SEO planning. With E2 there are no borders as it can track across global campaigns with keywords in many languages.
About Sykes Cottages: Sykes Cottages is the UK's leading independent cottage rental agency that has been supplying top quality holiday cottages for over 25 years. In that time we've grown from a small family business to a highly respected national agency with thousands of holiday cottages available for rent.
###