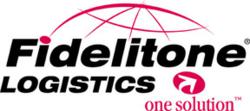 Wauconda, Ill (PRWEB) September 22, 2011
Fidelitone Logistics, an industry leader in third-party logistics and supply chain performance, has been selected to provide parts and distribution services for The Home Depot, Inc. the world's largest home improvement retailer.
"We are very excited to begin this partnership with The Home Depot," said Josh Johnson, President at Fidelitone Logistics. "The Home Depot brand has such a great reputation in the home improvement marketplace. We look forward to supporting that reputation with superior order processing and fulfillment for their various needs across the enterprise."
"Fidelitone brings a rich history of providing parts solutions for a wide array of clients. We are excited about their capabilities and how they will aid our operations moving forward" Justin Brown, Director, Store Operations.
For more than 80 years, Fidelitone Logistics has provided distribution services, continually expanding to provide its clients with a full range of service offerings. Fidelitone Logistics leads the industry as a trusted partner for solving any supply chain and logistics challenge. For more information on Fidelitone Logistics, please visit http://www.fidelitone.com.
About The Home Depot Inc.
When it was founded in 1978 by Bernie Marcus and Arthur Blank, The Home Depot® began changing consumers' perspectives about how they could care for and improve their homes. The Company created the "do-it-yourself" concept, spawning an entire industry that now spans the globe. As the world's largest home improvement retailer, The Home Depot operates more than 2,200 retail stores in the United States. For information on the home improvement products available from The Home Depot, please visit http://www.homedepot.com.
About Fidelitone Logistics
Fidelitone Logistics is an industry leader in 3PL and supply chain performance that delivers value-added solutions for business partners and their clients. As a logistics innovator since 1929, expertise includes: Inventory Management, Global Sourcing, Warehousing & Distribution, Transportation Management, Print & Packaging, White Glove Delivery and Reverse Logistics. Headquartered in Chicagoland, Fidelitone Logistics is a privately-held company with more than 25 locations and 600 employees throughout the United States. To date, more than 1 million shipments are managed by Fidelitone Logistics each month, for a variety of customers ranging from Fortune 100 companies to start-up organizations. For more information, please visit http://www.fidelitone.com.
###