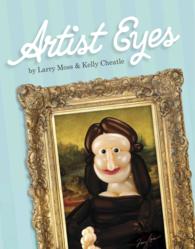 "I decided to recreate the works of the great masters in order to gently challenge preconceived notions of what art is."
Rochester, NY (PRWEB) September 21, 2011
Larry Moss was inspired to recreate iconic masterpieces in balloons as a way to gain acceptance for his own art form, Airigami, "the fine art of folding air".
"My medium is sometimes viewed as a child's toy, and many people have told me that what I do is 'like' art," says the internationally-renowned, self-described "airigamist." "I decided to recreate the works of the great masters in order to gently challenge preconceived notions of what art is."
Combining balloon sculpture with photography and illustration, Moss debuted the eight, framed works that make up his Master Works series at the first-ever ArtPrize competition in Grand Rapids, Michigan in 2009. They are: "Mona Lisa" and "Vitruvian Man" (Leonardo Da Vinci), "Whistle-air's Mother" (James McNeill Whistler), "Airmerican Gothic" (Grant Wood), "Blue Poles" (Jackson Pollock), "Reflecting Globe" (M. C. Escher), "Homage to Cezanne: Fruit Bowl," and "Homage to Warhol: Soup Can." A live sculpture installation, "The Breath of Venus" (Sandro Botticelli), accompanied the exhibition.
Now, with Artist Eyes, Moss and design partner Kelly Cheatle hope that the images will inspire children to challenge their own ideas and imaginations – and perhaps learn a little art history along the way.
The paperback picture book contains a statement entitled, "Inspiration," in which Moss writes: "Some people like to paint pictures…I use balloons. Use your imagination. I'd like to see what you create when looking at the world with your artist eyes." Kids are encouraged to share their own works of art on the Airigami website.
Moss will be sharing his creativity with children at NYC's Affordable Art Fair Fall Edition (7 West 34th St.) September 24 & 25 at 3 p.m. His LittleCollector.com prints as well as copies of Artist Eyes will be available. On Wednesday, October 5 (Balloons Around the World Day), he'll combine a book signing with the installation of a balloon butterfly garden at The National Museum of Play® at The Strong® in Rochester, NY (where Airigami currently has an exhibition called Once Upon a Time).
Artist Eyes (2011, Airigami, LLC, $14.95) is also available at airigami.com, amazon.com and etsy.com, and at the University of Rochester's Memorial Art Gallery.
About Larry Moss and Airigami:
Moss began his career began 25 years ago as a NYC street performer, but has gone on to display his incredible, inflatable art in 12 countries on four continents. His achievements have been recognized by The Wall Street Journal, AP, CNN, PBS, Smithsonian Magazine, Cabinet, American Profile, Guinness Book of World Records and Ripley's Believe It or Not! He's appeared on The Martha Stewart Show, NBC's Today and at the White House.
# # #