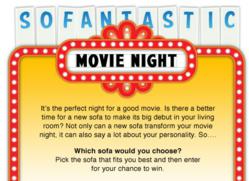 (PRWEB) September 26, 2011
What makes for a blockbuster movie night in? Is it the freshly made popcorn? Hours of laughter with loved ones? Or could it be the chance to snuggle-up underneath piles of blankets on a comfy couch while watching a favorite film? Though all of these things appeal to the at-home movie watcher, to furniture fans, the comfortable sofa part is probably the most important attribute of all. This is why Value City Furniture is spotlighting the Living Room sofa in their Sofantastic September sweepstakes. Starting September 24th and through the 30th, Facebook fans can try their hand at winning a free gift card worth $700 by selecting which Living Room sofa best fits into an epic movie night experience.
Movie buffs of every type can enter the sweepstakes by clicking the custom "Sofantastic Sweepstakes" tab at http://www.facebook.com/ValueCityFurnitureUSA. Within the tab, fans choose which Value City Furniture Living Room sofa is their favorite. Whether they want a sofa equipped for a weekend-long movie marathon, flexible enough for an edge-of-the-seat thrill ride, or comfortable enough to slip into a steady slumber, there's something for everyone. By selecting a Living Room sofa, fans can learn some fun facts about their personality and are instantly entered to win a $700 gift card to spend at Value City Furniture. It's as simple as a point and click.
Fans are encouraged to follow @ValueCityFurn on Twitter for updates about the Sofantastic September Sweepstakes and invite their friends and family members in on the conversation. By sharing their sofa personality results as well as the link to Value City Furniture's Facebook page with their friends and followers, fans can channel their inner Braveheart and battle it out in friendly competition.
The sweepstakes ends soon, so it's time to press pause, hurry over to Facebook, and log in and click to win.
###