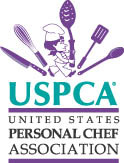 People are moving away from the 'gut-bomb' dinners in favor of balance across the plate and across the dining experience.
Orlando, FL (PRWEB) September 22, 2011
It's not necessarily out with the old, in with the new, but the expanding popularity of the Food Network and the country's growing focus on healthier foods are shaping the way Americans will eat and entertain this holiday season, according to a recent informal poll of members of the U.S. Personal Chef Association(USPCA).
Healthier, locally-grown, ethnic and bite-sized foods are trends personal chefs already are being asked to incorporate into holiday meals and events they're planning and preparing for clients through the end of the year.
Among the requests USPCA members are fielding – holiday fare that involves unique adaptations to long-standing or recently popular customs.
Whap! Turducken Gets Sacked
Sorry John Madden … "turducken," a dish consisting of a de-boned chicken stuffed into a de-boned duck, which is then stuffed into a de-boned turkey, has gone the way of the dodo. In its place this holiday season will be alternatives like wild game boar, smoked-roasted duck, and Cajun-style standing rib roast.
Laura MacDougall, a personal chef in Stoughton, Mass., says wild game is gaining in popularity not only because it's a great source of protein but also because it contains no hormones or artificial additives. Personal chefs like MacDougall are familiar with the proper handling and cooking of wild game which helps maximize flavor and eliminate the "gamey" taste.
USPCA members are seeing more ranchers and suppliers carrying grass-fed meats versus grain-fed, and more grocers stocking organic products and locally-grown produce.
"People really want local, organic, hormone and antibiotic-free," said Marirae Mathis of Who Cooks for You in Gallatin, Tenn. "And because many are making the switch for the very first time, they're relying on me to teach them how to prepare meals using these ingredients in a way that offers lots of flavor but little fat."
Buh-bye Carb-Fest. Hello Locally-Grown.
USPCA members also say the increased emphasis on health is resulting in a shift away from the calorie-laddened side dishes of holidays past.
David Hall, owner of Thyme for a Chef in Phoenix, Ariz., is replacing typical cranberry sauce with a recipe that blends smoked pecan halves, supremed oranges and a hint of chipotle with the cranberry.
Clients also are requesting healthier variations of vegetables to replace decadent traditional sides, so chefs are creating flavorful alternatives like Brussels sprouts with walnuts, fresh blanched green beans and a touch of butter or olive oil rather than green bean casserole.
Ethnic Thanksgiving
The popularity of The Food Network along with the increased availability of ethnic food products has American taste buds going global. As a result, personal chefs are being asked mix in recipes that are culturally authentic.
"So many are watching these food channels and being enticed to try new and more exotic flavors – everything from South American to African to Middle Eastern," said Briana Nervig of My Green Cuisine in Ft. Collins, Colo. "Many are turning to personal chefs to help because ethnic recipes are often difficult to shop for and prepare, not to mention time-consuming."
New Twist on Comfort Foods
The holidays are a cherished time of year to turn to classic family recipes and favorite comfort foods. This year, however, personal chefs are being asked to whip up comfort foods that are lighter and fresher than the traditional versions, or offer a new twist. Shirley Scrafford of Fairfax County, Va. has tinkered with a popular southern dish to create a "de-constructed" jambalaya served in the form of a beautifully striped stack of seasoned rice, seafood, tomatoes, vegetables and either chicken or sausage, drizzled with a zesty tomato sauce.
Meanwhile Darlene Demesa, a personal chef in Woodstock, Ga. is modernizing traditional comfort foods like mac n cheese by adding flavors like lobster to the dish or infusing a southwestern flare, and kicking up mashed potatoes with truffle oil or gruyere cheese.
Small Portions are New Big Thing
Massive, sit-down feasts are a thing of the past. This year the trend is small plates or individual bites and hor d'oeuvres and appetizers in place of traditional entrees and sides.
"People are moving away from the "gut-bomb" dinners in favor of balance across the plate and across the dining experience," said Hall.
Personal chefs also are seeing a shift to community table dinner parties, wine tasting parties and make-ahead sides and casseroles ready to go for potlucks or guest pop-ins.
Supporting the shift to small plates and sharing, personal chef are preparing more "mini foods" from appetizers to brunch and putting them in small "onesie" containers that get friends and family to take notice. Similarly, Pier I has come up with an entire line of tasting dishes perfect for tapas parties.
And of course, dessert
Holiday season sweets in 2011 combine two trends to create ultimate comfort food dessert in mini form. Individual tarts are growing in appeal compared to whole pies that get mangled during the serving process – often by guests looking for just a taste, or half a piece in order to sample several dessert options. One-bite pies also allow guests the option of trying a variety of tastes without feeling too guilty.
Like their starchy comfort companions, dessert flavors will also reflect interpretations of classics, like the PB&J Apple Pie with grapes added to the mix and topped with a peanut butter crumb topping. Other popular items are pound cake desserts on skewers featuring fresh fruit, and or mini "crustless" apple pies with sautéed apples with crème fraiche.
Personal chefs are well-versed on emerging trends and help save families valuable time, particularly during the holidays by assisting with a range of services from planning elaborate events to helping stock a variety of "fix-and-leave" dishes that are perfect for families on the go during the holidays.
Interested families can find a personal chef near them by visiting http://www.hireachef.com, a website that features members of the US Personal Chef Association.
###