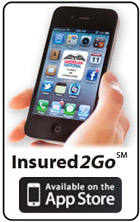 American National has developed Insured2Go, a new iPhone app that offers an extensive list of insurance-related services and features.
Springfield, MO (PRWEB) September 22, 2011
American National takes a personal interest in helping its clients protect what they value most. Realizing that the way people receive their information has been rapidly shifting in recent years, American National developed Insured2Go, a new iPhone app that offers an extensive list of insurance-related services and features. Even those not currently insured with American National will find the app's functionalities to be useful in the event of a roadside emergency or auto accident. The app is available free of charge at the Apple App Store.
The release of the app follows the recent optimization of anpac.com for mobile browsers. Key features of Insured2Go include the following:

Report or check the status of a claim
Review policy information
Receive roadside assistance
Locate nearby vehicle repair shops
Make a payment
Contact information for your local agent
Display current insurance card
Quick Exchange feature to provide your insurance card information to others via email
Insured2Go allows users to quickly place a call to 911 if they have an emergency. App users can also search for nearby vehicle repair shops and roadside service providers. For clients who have added Easy Tow® roadside assistance to their American National auto policy, the app also allows users to call for help or for a tow directly through the app.
The app also helps record critical information needed to file an auto claim. With Insured2Go, users are taken through a series of questions that will help them quickly gather information that they will need later – what type of loss occurred, when it happened, where it happened, who was involved, the location of the damage/impact and the opportunity to upload photos of the vehicles and the accident scene. Once the information has been completed and saved, current American National clients can use it to report a claim directly through the app.
In the event of an auto accident, it is crucial to exchange information with the other drivers involved. Insured2Go offers Quick Exchange, which will quickly email a copy of American National insurance ID cards.
Details about losses to farms, homes or businesses can also be recorded through the app and used to report a claim. If a client has an existing claim, they can check its status through Insured2Go.
But the app isn't just useful for reporting claims or roadside assistance. Current American National clients can manage all of their policies through the application. They can review policy information (coverage limits, policy term, etc.), make a payment and display their current insurance card.
A complement to the convenience of Insured2Go is free, personalized service provided by American National agents. While the services provided by the app, and mobile-optimized website, are convenient while on-the-go, there is something to be said for knowing that there is a real person who genuinely takes a personal interest in helping you protect everything that you value most. Both current and prospective clients can find their local agent through Insured2Go or the ANPAC website.
Insured2Go is the fourth iPhone application created by the American National Family of Companies. The free CHROME iPhone Application, originally released in October 2009, was designed for classic car enthusiasts. Key features of the app include a collector car price guide, a road-trip journal, car show information and a photo gallery of collector vehicles. American National also released the free CHROME Quarter-Mile Challenge Drag Race app in April 2010, which allows users the opportunity to experience the thrill of virtually drag racing a classic car. Farm Family, part of the American National Family of Companies, recently launched the Harvest to Hand app, which provides consumers with information about local agricultural events and where to buy fresh farm products and homespun goods.
American National Property And Casualty Company is headquartered in Springfield, Missouri. It is a subsidiary of American National Insurance Company (ANICO) of Galveston, Texas. American National Multiple Line exclusive agents offer a combination of life insurance, annuities, property and casualty insurance for personal lines, agri-business, targeted commercial exposures and other services. Multiple Line agents serve individuals, families and business owners. Go to http://www.anpac.com for more information.
This summary of coverages is not a statement of contract. Some coverages may not be available in all states. All coverages are subject to the exclusions, conditions, and requirements stated with the policy. ANPAC is a registered trademark of American National Property And Casualty Company. The trademarks may not be used without permission of the respective companies. Apple, iPhone and App Store are trademarks of Apple Inc., and may not be used without permission of the respective companies.
###