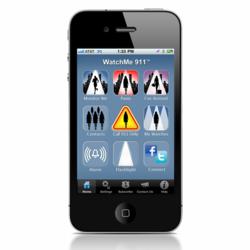 WatchMe 911 is the Swiss Army Knife of Personal Security Apps
Los Angeles, CA (PRWEB) September 23, 2011
WatchMe 911™, a multifunctional personal safety app, designed for women, by women, launches today. With four customizable alert modes, seven alarm sounds, a flashlight and connection to 911 and contacts by phone, text, email, Facebook and Twitter, WatchMe 911 is the Swiss Army Knife of personal security apps. Its versatility makes it a valuable tool for women on the go and offers an added layer of protection in a world that can sometimes be a challenge to your peace of mind and personal security.
With a tap of the screen, information is instantly transmitted to those who can help: Emergency services and your own network of first responders. "You download WatchMe 911 for the same reason you have airbags in your car, teach your kids not to talk to strangers and equip your home with smoke detectors: Because accidents happen, emergencies occur and danger comes in many forms. It pays to be prepared," says CEO Alice Armitage.
WatchMe 911 is offering a free 30-day free trial to all it's subscription features, including:

MONITOR ME: A timer-activated alert that provides a backup plan for everyday activities like going for a run, meeting a stranger or venturing someplace unfamiliar.
PANIC: A double tap calls 911 and sends contacts text and email alerts messages and a map.
I'VE ARRIVED: A convenient way for the user to let family friends and co-workers know they've safely arrived at their destination. Sends contacts text, emails and a map.
The app is free to download and the "Call 911 Only" alert is always free. Here's the benefit: When there's an emergency and seconds count, you don't want to be fumbling with a keypad. While manually calling 911 takes 8 taps, it takes just two taps to activate the Call 911 Only alert, there's no chance of misdialing and the alert screen stays lit until you call 911 or exit the alert mode.
About WatchMe 911, Inc.
WatchMe 911 is the brainchild of two women who don't fit the Silicon Valley mold for technology executives. Alice Armitage and Jill Campbell didn't get into the world of apps with backgrounds as software developers, venture capitalists or even website entrepreneurs. They didn't create WatchMe 911 to promote an existing product or to take advantage of an emerging market. In fact, the idea for the iPhone app predated the iPhone. As businesspeople, as women, and as mothers, they saw the need for a multifunctional personal protection system. When the technology caught up with the need, WatchMe 911 was launched. http://www.watchme911.com.
Alice Armitage, CEO and Co-founder. Alice is an attorney who has practiced international tax and corporate law at Califano, Ross & Heineman and at Arnold & Porter. She has served as a special assistant to the Associate Chief Counsel at the Department of Treasury and has been an adjunct professor at UCLA School of Law. She received her BA and MA in British and American Literature from Brown University and her JD from Yale Law School, where she was the first female Editor in Chief of the Yale Law Journal. In 2010, she graduated from the Founder Institute, an incubator program for technology start-up companies.
Jill Campbell, Chairman and Co-founder. Jill is the principal of Campbell Tax & Financial Services, LLC, a Sun Valley, CA firm. She holds multiple security licenses including that of OSJ, Office of Supervisory Jurisdiction. Jill is one of the Founders of Mission Valley Bank. She is the past President and former member of the Board of Directors of The Planners Network, a group of financial advisors from across the country.
###