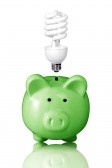 ...we believe that George Osborne should come to their assistance by reducing the VAT on energy from 5% to 4% so that the Treasury does not profit from this year's price hikes
London, UK (PRWEB) September 21, 2011
The Government is set to rake in a £197 million VAT windfall from rises in domestic gas and electricity prices, it can be revealed today.
The independent price comparison website Energyhelpline.com said this will take the annual VAT take from domestic energy to £1.5 billion because of recent bill increases – and called for the VAT rate on power to be cut from 5% to 4% to give back the money to hard-pressed customers.
Mark Todd, director of Energyhelpline.com, said: "It may alarm, if not anger people to find out that the UK Government will scoop a VAT windfall of £197million from the recent round of energy price rises.
"Customers are crying out for help to deal with these swingeing increases and we believe that George Osborne should come to their assistance by reducing the VAT on energy from 5% to 4% so that the Treasury does not profit from this year's price hikes.
"This will give an immediate £13 a year saving on a typical bill and, for once, the Government would actually be reducing people's bills instead of just talking about it."
He added: "It's ironic that the Energy Secretary Chris Huhne is talking about ways for consumers to reduce their bills while Mr Osborne is actually benefiting from a VAT bonus. If he is consistent, Huhne should get on the phone right now to his Cabinet colleague and demand he returns his windfall to consumers."
Scottish Power announced in June that it was raising gas bills by 19% and electricity by 10% and British Gas then followed in July with increases of 18% on gas and 16% on electricity. The other members of the Big Six suppliers – E.ON, nPower, Scottish and Southern Energy - then followed suit with EDF completing the round of rises last week with 4.5% on electricity prices and 15.4% on gas.
The average energy consumer paying the standard dual fuel rate quarterly has now seen their annual bill climb by 15% to around £1,300 from £1,125.
Energyhelpline.com calculates that the nation's 26 million homes will now have to fork out nearly £32 billion (£31,712,500,000) on domestic energy a year.
However, Todd pointed out that consumers could protect themselves against the pain of future price increases and save hundreds of pounds by switching to a fixed tariff energy deal.
He said: "It's not too late to avoid the pain of price rises. Low cost fixed rate tariffs are available that can guarantee no price rises until 2014. These will not be around for long so if you want a fixed rate tariff compare energy prices, get a quote and switch today."
The outing of the Treasury windfall comes just a day after Energy secretary Chris Huhne pledged to stop the big six energy suppliers from charging millions of customers expensive rates whilst inhibiting smaller suppliers by offering the cheapest online tariffs.
At the Lib Dem conference this week, Huhne vowed to grant the energy regulator Ofgem additional powers to make suppliers repay customers for unnecessarily high rates.
He further promised to make it easier for householders to find the best gas and electricity prices by forcing the suppliers to simplify their tariffs and tell their customers whether they would save money by moving onto a different energy deal.
Consumer groups have been calling for suppliers to simplify the maze of tariffs for months, and Ofgem has promised to combat this problem but hasn't yet made much progress. Independent comparison sites help customers find the best deals, but millions of homes fail to use them and are still paying over the odds on expensive standard tariffs.
Mark Todd of The Mirror's comparison service partner Energyhelpline, said: "If suppliers are told no longer to offer really good special offers to get new customers we could just see poorer special offers. The net result could be customers getting smaller savings. As a customer you don't need Chris Huhne to come to your rescue as you can already make big savings switching. Switching takes just a few minutes and is really easy. Energy is the easiest major bill to switch. The key to saving money on your energy bills is to move off high cost standard tariffs and onto low cost online or fixed rates. Fixed rates are looking very attractive at the moment as they guarantee no price rises for up to 3 years.
Todd concluded, "Chris Huhne sounds like he means business though we have heard such words from politicians before subsequently for little to happen. Only time will tell whether he really makes a difference."
# # #