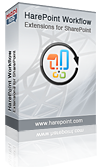 (PRWEB) September 22, 2011
MAPILab would like to announce a new version of HarePoint Workflow Extensions for SharePoint 2010. HarePoint Workflow Extensions considerably extends the capacity of Microsoft SharePoint workflow authoring and provides over 170 ready-to-use workflow activities in 15 different categories: SharePoint administration, Active Directory integration, document management, image processing, networking, and others.
There are several significant improvements in the new version of the product. All activities from Document Library and Office categories can be used with any type of SharePoint list as well as with document libraries. Some Document Library activities have been redesigned to extend their scope of operations. There are new features for activities in Workflow category. Finally, the feature to choose 'whether to trigger update/create event' has been added.
Other great news is a new section on HarePoint Workflow Extensions homepage: the library of typical workflow samples. There are step-by-step illustrated guides which allow you to create a typical workflow using HarePoint Workflow Extensions in minutes. How to automatically compress and resize image added into the picture library? Can be invoice automatically generated from a new sales request added into the SharePoint list? These tasks can be automated easily with the appropriate workflows, and our samples show how to create them. Each sample also provides a short video with demonstration of workflow creation process. New articles are being added to the library of workflow examples every week.
Also it is important to remember about a set of free activities in the product. These activities (over 20 ones) can be obtained and used for free, without any additional costs. It is really unique feature which is available in HarePoint Workflow Extensions only.
30-day trial version of HarePoint Workflow Extensions v.1.3 is available for download from the product home page:HarePoint.com
###