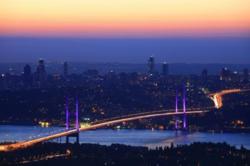 Istanbul Annual housing deficit of 250,000 units - Massive Demand For Quality Accommodation
(PRWEB) September 23, 2011
The shortage of good accommodation and massive demand for apartments in Istanbul and property investment opportunities has led Experience International to launched Richmond House II, investment apartments in Istanbul to the international investor audience.
In recent years Istanbul has become an international investment hotspot, seeing a 27% rise in foreign investment in 2011 according to the city's chamber of commerce. Turkey's successful banking and financial sectors, as well as its thriving tourism industry, have led to a surge in investment in apartments in Istanbul.
Istanbul's rapid growth, combined with a growing emerging middle class, has seen current demand for new homes in the city reach unprecedented levels. According to the Real Estate Investment Trust Association, it is estimated that 250,000 new homes per year are required until at least 2015 to meet existing demand.
The success of Istanbul's property market is a simple matter of 'supply and demand'. Europe's fastest growing city has seen rapid growth -some 400,000 new inhabitants arrive each year to work or study- and now the existing housing stock has reached capacity with demand increasingly outstripping the available supply.
Experience International has just launched an exclusive new development of luxury apartments in Istanbul, Richmond House II. The company is the only agent who can exclusively offer 18 luxury penthouse suites to property investors.
Designed to meet the needs of the growing rental market in Istanbul, Richmond House II is a brand new development located in one of Istanbul's most up and coming suburbs.
"Richmond House II provides a low entry level into one of the fastest growing cities in the world and delivers investors with a provable income stream and demonstrable exit strategy – the local market," Steve Worboys, MD of Experience International states. "We're pleased to exclusively offer 18 luxury apartments to our members, offering high rental returns and strong capital appreciation."
Incorporating cutting-edge architectural design and modern interiors, Richmond House II will include a selection of studio, 1 and 2 bedroom apartments with first class facilities set within a private gated community including roof top swimming pool.
Pre-Release prices for a 1 bedroom penthouse suite located on the 14th floor start from £56,000 allowing clients to invest from £20,680 based on 30% deposit and legal fees to exchange. This Istanbul property investment is set to become increasingly profitable with 70% LTV finance available for EU and North American buyers with the balance due on completion.
The Istanbul apartments are secured with a 3 year 7.25% protected rental guarantee and comparable projects have demonstrated up to 30% price lift during construction.
###