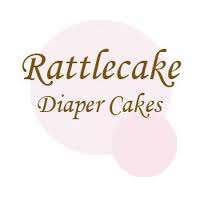 Sugar Hill GA (PRWEB) September 27, 2011
What's better than finding a fun and practical baby product? Getting it at a discount! To offer customers attractive and high-quality baby products at regular discounts, diaper cake retailer Rattlecake recently introduced coupons through its Facebook page. Coupons range from discounts on orders to free baby items, and the deal lasts for the full duration of the month. Those turning to Rattlecake for cute and practical baby gifts receive monthly deals by "liking" the company on Facebook. Once Rattlecake is "liked", the user automatically sees the latest coupon code and will see the new one each month on their news feed. The current coupon for September offers a nine-percent discount on all diaper cake orders.
Started by a stay-at-home mom in 2008, Rattlecake has quickly expanded over the past three years. With a workshop set up initially in one room of a home, the business rapidly grew to four rooms and then was moved to a retail space in Cumming, Georgia in 2010. The company soon outgrew the Cumming location and, in June 2011, leased space in a larger building in Sugar Hill, Georgia. The increased size of the current location allows for faster order fulfillment and personal interaction with customers.
With tiers of diapers surrounded by clothing, toys, and blankets, all Rattlecake diaper cakes are composed of quality name-brand products. For diapers, only Pampers Swaddlers or Seventh Generation are used, and baby products include items by Carter's, Gerber, Bright Starts, Baby Einstein, Mary Meyer, Ty Baby, Lambs & Ivy, Johnson's, and Safety 1st. While first-time parents are likely familiar with most, if not all of the brands, an important Rattlecake policy is that all diaper cakes are handmade in a smoke- and pet-free environment, ensuring that all diapers and baby items remain as sterile as possible. Once the diaper cake has been completed, it is placed in cellophane bag and sealed with a matching ribbon. An ingredient card and gift tag are then added to the exterior of the bag before it is placed in a sturdy box and shipped off to the recipient.
Rattlecake's diaper cakes are more than attractive and fun – they're trendy, too. Designers for the company keep an eye on the latest baby trends, from toys to popular colors, and incorporate them into their new diaper cake designs. If the customer cannot find exactly what they are looking for on the Rattlecake website, they can take advantage of Rattlecake's custom design service to perfectly match their diaper cake to any baby shower or nursery theme.
A Rattlecake diaper cake is the "sweet" treat you don't eat! As beautiful and practical baby shower gifts, Rattlecake's diaper cakes can be seen and purchased in person and online, and over the past three years, the company's internet presence has grown considerably with a website and social media. Extending its dedication and attention to customers, the company offers multiple views of each diaper cake on its website and recently added a new live chat feature to further enhance its customer service.
Press release services provided by Keyword Performance LLC.
###