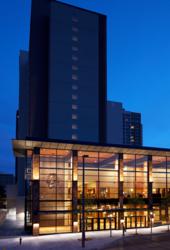 Hyatt Regency Bellevue is one of the few premier hotels in the region with 20,000 sq. ft. of event space required to house or hold this annual event
Bellevue, Wash. (PRWEB) September 21, 2011
Hyatt Regency Bellevue takes center stage from September 28 through October 2 as the official venue of Fashion Week at The Bellevue Collection, the Eastside's marquee fall event. As the site of glamorous parties and fashion runway shows, including the Nordstrom Fall Fashion show and Front Row Fashion presented by Vogue, the Bellevue hotel is the place to see and be seen by the region's high-end retailers and fashion elite.
"More than 2,000 fashion-forward attendees are expected at this year's Fashion Week events, and Hyatt Regency Bellevue is one of the few premier hotels in the region with 20,000 sq. ft. of event space required to house or hold this annual event," said Hyatt Regency Bellevue General Manager Rolf Osterwalder. "In conjunction with our event space, we also offer a stylish atmosphere that pairs well with the fall fashions that will be premiering on the 2011 runways."
After an evening of elegant events, attendees looking for luxurious accommodations in the heart of all the fashion action can reserve the Bellevue Collection Shopping Package at Hyatt Regency Bellevue. Starting at $189, the package comes with a $50 gift certificate for shopping any one of the top retailers within The Bellevue Collection (which consists of Bellevue Square, Bellevue Place and Lincoln Square), complimentary valet parking and a 2 p.m. late check out, perfect for those that need a little bit more rest after a night on the town. To book the fashion-inspired package, visit the Bellevue hotel's specials and packages page.
Fashion Week at The Bellevue Collection includes:
Wednesday, September 28, 8 p.m.
Glambition: Girl Power Hour Anniversary Party
$50 - $100 per person
Girl Power Hour hosts their anniversary party, featuring a night of fashion, stylish networking, philanthropy and social glam. For more information and to purchase tickets, visit the Girl Power Hour http://www.girlpowerhour.com/G4.
Thursday, September 29, 7 p.m.
Nordstrom Fall Fashion Show
$60 - $175 per person
Join Seattle-based Nordstrom for a runway show spotlighting the best of contemporary and emerging designers during its Fall Fashion Show. To purchase tickets visit the Detlef Shrempf Foundation, http://www.detlef.com. Proceeds benefit the Detlef Schrempf Foundation and the evening's charity partner - Bellevue Youth Theatre Foundation
Friday, September 30, 6:30 p.m.
Posh Party Beauty and Trend Show
$50 per person
Enjoy a stylish night of posh sips, tasty bites and a runway show beauty report by Estée Lauder showcasing fall's must-have beauty trends. To purchase tickets visit http://www.bellevuecollection.com/fashionweek.
Saturday, October 1, 6 p.m.
Front Row Fashion Presented by Vogue
$100 to $175 per person
Vogue brings the fall trends straight from the pages of the magazine to the runway offering insight on fall trends and how to wear fashions available at The Bellevue Collection. To purchase tickets visit http://www.bellevuecollection.com/fashionweek. The ticket price benefits The Moyer Foundation. Must be 21 or over.
Sunday, October 2, 7 p.m.
Undressed Runway Show by REPORT Shows and SEVEN Salon
$55 - $95 per person
SEVEN Salon and REPORT Shoes present an exclusive runway event, spotlighting amazing hair
and heesl. Tickets available at SEVEN Salon and REPORT Shoes locations. Call 425-289-1777
or 425-990-1234 to purchase or for information.
About Hyatt Regency Bellevue
Hyatt Regency Bellevue is a AAA four-diamond hotel situated on Seattle's Eastside, in the heart of downtown Bellevue, Washington. Nestled between Lake Washington and the Cascade Mountain Range, the hotel is part of The Bellevue Collection, the Northwest's leading shopping, dining and entertainment destination, and offers premier services and amenities to both business and leisure travelers. Recently completing a $185 million expansion, the hotel offers groups more than 70,000 square feet of flexible state-of-the-art event space – from the third largest ballroom in the state to an intimate 12-person boardroom – 733 luxuriously redesigned guestrooms, an expansive 7,000-square-foot workout complex and a comfortable, spacious lobby. For more information, please visit http://www.bellevue.hyatt.com.
###