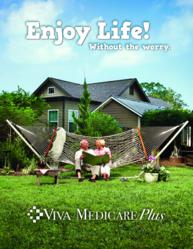 Birmingham, AL (PRWEB) September 22, 2011
Health reform brings changes to Medicare.
VIVA Medicare Plus is debuting a new campaign entitled "Enjoy Life" aimed at informing Alabama residents of the new Medicare Annual Election Period (AEP) dates. The October 15 – December 7 AEP is a short window of time that allows people with Medicare who are dissatisfied with their current Medicare coverage or are looking for a more budget-friendly plan to enroll in a new Medicare Advantage plan.
In the past, most people had two opportunities during the year to change plans. However, due to health reform, the only opportunity (outside of special election periods) to switch will be during the October 15 to December 7 AEP. After this, Medicare beneficiaries will only be able to change to original Medicare unless they meet special eligibility requirements.
Medicare beneficiaries who have questions about Medicare are invited to speak to a Medicare expert at VIVA's Medicare Cafés. These retail locations are designed to help Medicare beneficiaries navigate through the details of Medicare. In addition, the Cafés frequently have special events such as Wii bowling and topical sessions covering subjects like healthy eating and financial planning. The VIVA Medicare Cafés are located in Birmingham, Mobile, and Montgomery.
For more information about the Annual Election Period or information about VIVA Medicare Plus, visit http://www.MakingMedicareEasy.com or call 1-888-830-VIVA (8482).
###