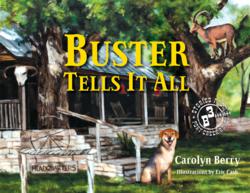 An engaging educational story based on a love of animals that captures the essence of what compassion and kindness toward others is all about.
Wendy Kopp, CEO and Founder, Teach For America
Dallas, TX (PRWEB) September 22, 2011
The definition of compassion is a feeling of deep sympathy and sorrow for another who is stricken by misfortune, accompanied by a strong desire to alleviate the suffering.
New children's book series "Buster Tells It All: Stories From Pony Creek Ranch" (Brown Books Publishing Group), by Carolyn Berry of Dallas, TX teaches young readers the importance of compassion, kindness, trustworthiness, and honesty toward others.
Based on real-life events that have taken place at the Pony Creek Ranch, Berry gives voice to Buster, head dog and foreman of ranch to share the many stories that have occurred through the years. "Buster Tells It All" grew from Berry's love of animals and the desire to help children understand the importance of properly treating animals of all kinds, while making clear the same importance goes for people and the way we treat each other as well.
Rescuing or taking in abandoned and orphaned animals is the most important aspect of the ranch, and the Berry family keeps and cares for these abandoned animals.
Jack Hanna, director emeritus of the Columbus Zoo says, "Animals living out in the wild have a tough life challenged by disease, fights, and finding food. To the rescue comes Pony Creek Ranch."
Located near Glen Rose, Texas, Pony Creek Ranch sits on one-thousand acres filled with endangered and protected wildlife from around the world, surrounded by breathtaking landscape, log cabins, waterfalls and game-trodden hiking trails. Without fences or fear, these protected animals live together as a family in the safety of the ranch.
In the first of the "Stories From Pony Creek Ranch" series, Berry introduces young readers to a story of the love, friendship and support that can exist between animals and people. Through Buster, whose main job is to watch over and care for the animals, we meet April a Nubian ibex, who has been abandoned by her mother and will die if she doesn't eat. To the rescue comes Carolyn Berry teaching April how to drink goat's milk from a bottle to ensure she gets the proper nutrition.
"The honesty given by an animal shows us who they are. Their trust, when earned, stirs our compassion and reminds us of our own humanity," says Berry.
Pony Creek Ranch is an exceptional place where people are invited to experience things they otherwise would never know. Take for example, the underprivileged children who are fortunate enough to be in the Teach For America educational program founded by CEO, Wendy Kopp: when they come to the ranch for a visit it's truly amazing to watch them experience things for the first time! They go home with a different sense of what life is all about.
So many lives have been touched or changed because of the animals, and their impact has made quite a difference. Be sure to visit "Fast Facts" about Nubian ibex and white-tailed deer, located in the back of the book!
Please join us again on Buster's next big adventure! To learn more visit: http://www.ponycreekranch.com
*A portion of the proceeds will be donated to the Teach For America and Teach For All Program and the SPCA. To learn more visit: http://www.teachforamerica.org and http://www.spca.org
About Brown Books Publishing Group:
Brown Books Publishing Group is a Texas-based, independent publisher providing manuscript development, editorial expertise, website design, cover design, fulfillment and distribution, as well as marketing and public relations. A referral-only publisher, Brown Books has ushered in A New Era in Publishing™ where authors who've chosen to retain the rights to their intellectual property are invited to participate in the publishing process from start to finish. Relationship publishing is the mainstay of Brown Books Publishing Group and its many imprints: The Small Press, Brown Christian Press, Brown Books Digital, and Personal Profiles. For more information about BBPG visit http://www.brownbooks.com or to schedule an appointment with the publisher, Milli Brown, please contact Rayven Williams at rayven(at)brownbooks(dot)com or 972-381-0009.
###