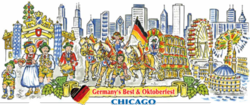 Chicago, IL (PRWEB) September 23, 2011
Tourists and city-dwellers alike are flocking to Navy Pier for great events in Chicago in 2011, and Concierge Preferred can help with all of the necessary planning. Navy Pier's event offerings run the gamut, from Germany's Best & Oktoberfest (September 23 through October 10), Chicago's Perfect 10, Shoreline Sightseeing Cruises (until September 30), and stage events such as Murder for Two — A Killer Musical (until October 16), Navy Pier has something for everyone to enjoy!
But what about football fans? Navy Pier has them covered, as well! Visitors can park at Navy Pier and take public transit to see the Chicago Bears host the Green Bay Packers on September 25. As one of the fiercest and longest rivalries in football and all of sports, this game is sure to be an event not to miss.
It would be an absolute shame to be fretting about a vehicle throughout the game — to that end, Navy Pier is pleased to offer two enclosed parking garages with room for as many as 1,600 vehicles. Parking spaces in these structures are offered on a first-come, first-served basis, and the rates are $20 per day Monday through Thursday and $24 per day Friday through Sunday and on Holidays. For those who wish to guarantee their parking spot, reserved parking can be purchased through Navy Pier's sales office.
If Navy Pier's parking garages are full, visitor's needn't give up on attending their favorite events in Chicago. There are other options, such as underground parking at the River East Arts Center for $36 per day, parking at the Lake Point Tower for $38 per day, and a number of other parking garages around Navy Pier that are available year-round.
No matter what visitors are in the city to see, there are a variety of Navy Pier events in 2011, and Concierge Preferred has all the information one needs. Navy Pier is also easily accessible via Chicago public transportation, so parking at or near Navy Pier makes it simple to get around the city to football games or other events. Visitors from anywhere can park at Navy Pier and use it as a home base while they see all that Chicago has to offer.
# # #