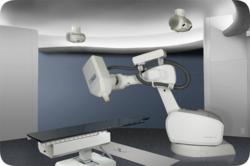 With the advanced tools we offer right here in Suffolk County, patients are no longer traveling to New York City or forced to navigate through hospital networks for treatment
Huntington, NY (PRWEB) September 22, 2011
Cyberknife of Long Island is entering its third year treating patients with the most sophisticated cancer treatment available. North Shore Radiation Therapy installed the Cyberknife Radiosurgery System in 2009 and continues to expand the cancer treatment services available to Suffolk County residents. "The last two years have enabled us to offer expanded treatment options to the community" said Jeffrey Musmacher, Chief Operating Officer at Cyberknife of Long Island "With the advanced tools we offer right here in Suffolk County, patients are no longer traveling to New York City or forced to navigate through hospital networks for treatment".
Program Highlights:

More than 300 patients have been treated in 2 years which is more than double the first year in operation.
The center has delivered over 1,300 Cyberknife Radiosurgery treatments.
Diseases most often treated in the last year include: prostate cancer; brain tumors; lung cancers and tumors of the spine. Prostate and brain lesions represent the largest number, with 60% of treatments falling into this category.
Thoracic surgeons have been successfully treating patients using a process that allows for rapid referral to the center. These patients are quickly identified, diagnosed and preparations made for quick treatment thereby reducing the sometimes lengthy process that follows diagnosis of lung cancer.
Neurosurgeons are referring patients with both malignant and benign brain tumors for treatment that is sometimes completed in one visit, with no cutting, no anesthesia, and no recovery time without the use of a head frame typical of other devices such as the Gamma Knife.
"We are very pleased with the results we have seen during the last 24 months and our team of experts is constantly looking to improve our Cyberknife program and continually advance cancer treatment within the community" said Dr. Richard Byrnes, Medical Director of CyberKnife of Long Island.
"Previously patients with early stage lung cancer would need surgery" said Dr. Heather Zinkin, Radiation Oncologist at Cyberknife of Long Island. "We now have the option of giving extremely precise doses of radiation that is directed only to the lung tumor with results that are equivalent and without the need for anesthesia or hospitalization".
CyberKnife is the world's only robotic radiosurgery system - a linear accelerator attached to a highly maneuverable robotic arm - and offers painless cancer treatment virtually anywhere in the human body. CyberKnife treats cancerous and benign tumors in the brain, spine, lung, liver, pancreas and prostate through a process called stereotactic radiosurgery, a noninvasive method of treating tumors with high-dose radiation precisely aimed from different angles. The result is greatly increased accuracy that spares healthy tissue.
Since 1988, North Shore Radiation Therapy has provided premier radiation therapy services in New York. The center offers Cyberknife Radiosurgery, 3-D Conformal Radiation Therapy, IMRT (Intensity Modulated Radiation Therapy), IGRT (Image Guided Radiation Therapy), Rapid Arc, Partial Breast, Skin and Gynecological Brachytherapy. North Shore Radiation Therapy is the most experienced in all modalities of prostate cancer radiation therapy including radiosurgery and IGRT in Suffolk County. The centers are staffed by board certified physicians and highly trained clinicians with expertise in utilizing the most advanced radiation therapy technology. Located in Huntington and Smithtown, New York the centers are open Monday through Friday and accept all insurance plans. Appointments can be made by calling (877) 542-9237. You can visit the website at http://www.cyberknifeoflongisland.com.
###