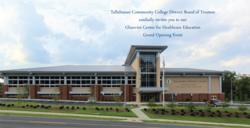 Tallahasse, FL (PRWEB) September 23, 2011
Tallahassee Community College's Ghazvini Center for Healthcare Education has opened its doors and has been serving students for Fall 2011 semester. Located at 1528 Surgeons Drive, the Ghazvini Center is centrally located in the heart of Tallahassee's burgeoning medical corridor.
TCC broke ground on the 85,000 square foot facility in March 2009. Now, just short of two-and-a-half years later, class is in session.
With the exception of the dental program, all of TCC's health care programs have relocated to the Ghazvini Center, including diagnostic medical sonography, emergency medical services, nursing, radiologic technology and respiratory care.
Students working towards a health information specialist certificate will also call the Ghazvini Center home. The program prepares students for employment as entry-level healthcare information specialists or to provide supplemental training for persons previously or currently employed in related health record occupations.
Accompanied by cutting-edge technology - a staple of the Ghazvini Center - students' training will include responding to emergencies in simulated real-time settings. The Ghazvini Center also houses classrooms, conference rooms, a library, laboratory space, a simulation center and administrative offices for TCC's Division of Health Care Professions.
Equally important for TCC, the completion of the Ghazvini Center will enable the College to increase its enrollment capacity in health care programs by close to 100 percent over the next five years. To support this initiative, the TCC Foundation's Healthcare Provision and Excellence Campaign continues to seek investments for facilities, state-of-the-art technology, student support services, scholarships and more.
For more information on the Healthcare Provision and Excellence Campaign, please contact Robin Johnston at (850) 201-8580 or johnstor(at)tcc(dot)fl(dot)edu.
The grand opening of the Ghazvini Center for Healthcare Education will took place Thursday, September 8.
Ghazvini Center for Healthcare Education Timeline

February 2005 – Tallahassee Memorial HealthCare provides 14.5 acre gift of land that will become the eventual site of the Ghazvini Center
January 2006 – TCC receives a large gift from the Ghazvini Family
March 2009 – TCC breaks ground on the Ghazvini Center
August 2011 – The Ghazvini Center for Healthcare Education opens for class
###