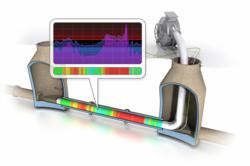 Liner cure is a complex and dynamic process that, until now, has been monitored using primitive technology. VeriCure delivers the data you need to control and document the process.
Randolph, NJ (PRWEB) September 22, 2011
Using patented technology, the new VeriCure™ system from Pipeline Renewal Technologies monitors cure temperature continuously along the full length of a CIPP (cured-in-place pipe) liner during installation. This information helps ensure storm and sewer lines are rehabilitated to specification, and perform as intended. Designed to distinguish even small thermal variances, the VeriCure™ system measures average temperature in successive 1.5-foot zones—a spatial resolution at least seven times that of alternative technologies. And with measurement probes costing less than a dollar per foot, VeriCure™ makes it affordable to prevent costly lifts, delamination, over-tensioning and environmental contamination.
"Liner cure is a complex and dynamic process that, until now, has been monitored using primitive technology," says Richard Lindner, president of Pipeline Renewal Technologies. "VeriCure delivers the data you need to control and document the process. It has fantastic implications for the productivity of relining contractors, and for the longevity of the infrastructure cities hire them to rehabilitate."
Indeed, VeriCure indicates exactly when the liner cure goes exothermic, and when cure and cool-down are complete. This means no wasting fuel and crew time overcooking the liner, and no risk of failure due to undercooked midpoints. The savings more than offsets the cost of the technology, and the information gathered provides valuable insurance against costly warranty repairs down the road.
During liner cure, the exothermic reaction of the resin can occur on a small scale, and non-uniformly with respect to time and distance. For this reason, measuring temperature at a liner's endpoints (the traditional method) provides no assurance that cure has happened everywhere (or anywhere) between. Even measuring a couple dozen intermediate points can overlook significant regional variations. "Any solution that uses discrete sensors inherently has blind spots, especially when those sensors are placed 10 to 20 feet apart", says Jake Wells, VeriCure Product Line Manager at Pipeline Renewal Technologies. "VeriCure performs continuous measurement, which means that each 1.5-foot measurement zone reflects the average temperature across that zone. In other words, no thermal condition can hide from VeriCure."
VeriCure measurement probes are unobtrusive; they measure just 3mm in diameter, and introduce no sensitive electronics into the pipe. They come in stock lengths of 500, 700 and 900 feet, and can also be fabricated to custom lengths. The probes are simply pulled into position by a crawler or jetter, and then cut along with the liner ends after cure is complete.
The compact VeriCure command module travels easily in a field-hardened case. Simply boot it up, connect your probe, and begin monitoring temperature.
The software supplied with VeriCure is tailored to CIPP professionals. It delivers real-time data to help you control cure for maximum quality and efficiency, and it summarizes the completed process with a succinct report for the asset owner. In each measurement zone, the software verifies that cure temperate has been met and maintained for the appropriate amount of time, and then that cool-down happens at the specified rate. By aggregating this zone data, VeriCure is able to give simple indications of when cure temperature has been reached, and when cure and cool-down are complete. The final data is summarized elegantly in a gradient chart whose axes represent time and distance, and whose color represents temperature.
VeriCure systems will begin shipping October 1, 2011. Because of anticipated technological improvements and cost reductions, and to accommodate a variety of usage patterns, the systems are being supplied initially on a lease basis.
About Pipeline Renewal Technologies. Pipeline Renewal Technologies is an Envirosight company focused exclusively on the pipeline rehabilitation market. The company offers technologies for no-dig structural lateral connection, lateral and lateral reinstatement cutting, durable point repair, and infrastructure measurement. A strong emphasis on support makes Pipeline Renewal Technologies the partner of choice for municipal contractors looking to gain a competitive edge with innovative technologies. Pipeline Renewal Technologies is a member of NASTT and NASSCO.
###