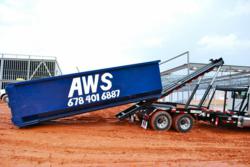 Best service in town!
Atlanta, GA (PRWEB) September 23, 2011
AWS is a full service waste hauling company the specializes in providing roll off services for home owners, construction contractors, and industrial businesses. AWS combines the professionalism of large waste hauling companies along with the high level of customer service found in smaller companies.
Patrick O'Neil, President of AWS reported: "Through our waste consulting business we found the need to provide affordable quality service for both large and small companies. So, we put together a senior management team that had the experience to execute such a plan."
Since AWS began operations in summer of 2011 its services in both waste removal and recycling have been in high demand. "We were extremely please at our results so far" said Heather Dinsmore, Vice President of Sales and Marketing. "We continue to grow on a daily basis."
AWS is a waste hauling and consulting firm specializing in waste and recycling services. They provide advise in helping clients decrease the amount of waste that they dispose of, increase the amount of waste that can be recycled, and drive the associated costs of handling their waste down.
# # #