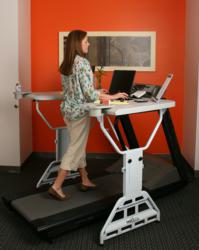 "Some of the impact of exercise is comparable to what we see with pharmaceutical intervention. Exercise has the ability to impact stem cell biology. It has the ability to influence how they differentiate."
Scottsdale, AZ (PRWEB) September 21, 2011
On the heals of recent research showing that walking increases the number and efficiency of energy producing mitochondrial cells comes research from McMaster University, published in the Journal of Federation of American Societies for Experimental Biology, showing that daily walking triggers stem cells to produce bone cells rather than fat cells, increasing the body's capacity to produce blood, increasing aerobic capacity. TrekDesk Treadmill Desks allow individuals normally confined to a desk to walk all day while they work, boosting energy and productivity levels.
Do office cubicles lead to lower blood production? Led by McMaster University's Department of Kinesiology associate professor Gianni Parise the study contrasted treadmill conditioned mice, exercising less than an hour, three times a week to sedentary control mice. According to Parise the exercising mice showed a significant increase in blood production compared to the control group. In the sedentary mice the stem cells had a greater chance of becoming fat cells which impaired the production of blood in the marrow cavities of the bones.
A little goes a long way: In a statement released with the study Parise was surprised by the amount of exercise necessary to influence the positive gains, "The interesting thing was that a modest exercise program was able to significantly increase blood cells in the marrow and in circulation. What we're suggesting is that exercise is a potent stimulus -- enough of a stimulus to actually trigger a switch in these mesenchymal stem cells."
The study illustrates that sitting at a desk all day would actually cause some cells to develop into fat cells and fill the bone marrow cavity, triggering anemia, causing a lack of energy and further deteriorating health conditions.
Parise suggests that his findings support the investigation of more non-medicinal treatments for blood related disorders. "Some of the impact of exercise is comparable to what we see with pharmaceutical intervention," he says. "Exercise has the ability to impact stem cell biology. It has the ability to influence how they differentiate."
"There are hundreds of studies showing the efficacy of exercise, its restorative and preventative prowess yet somehow that information gets lost in the discussion," states Steve Bordley, CEO of TrekDesk Treadmill Desks. "If we want a healthy, competitive nation we have to insist on increasing the amount of physical activity into our daily lives."
Designed to fit any existing treadmill, TrekDesk is an affordable, full sized workstation allowing individuals the opportunity to gain the necessary amount of exercise daily to maintain health, prevent disease, strengthen muscles, boost mood and productivity, without requiring additional time during the day or extra motivation.
Join the TrekDesk "Movement Revolution" to learn more on TrekDesk's Facebook page.
CONTACT: Steve Bordley
TrekDesk
Ph: 877-449-8588
FAX: 877-449-8588
info(at)trekdesk(dot)com
http://www.trekdesk.com
###