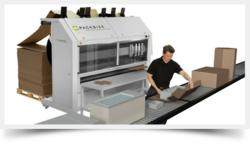 Packsize's packaging solutions result in less waste, lower shipping costs, decreased damage rates, and increased customer satisfaction
Salt Lake City, UT (PRWEB) September 22, 2011
Packsize LLC, an internationally known leader in providing lean packaging systems, today announced a new website (http://www.packsize.com) that better reflects the company's vision, industry standing, its green practices, operations, and technology. Visitors will be greeted with a clean informational design, fresh images, and user-friendly navigation.
"This redesign provides much more information for customers wanting to learn about on-demand packaging," said Packsize Vice President of Marketing Brandon Brooks. "The new website demonstrates Packsize's continued efforts to revolutionize the packaging industry."
The site was developed to provide users with a better understanding of the impact on-demand packaging is making across several vertical markets, including: fulfillment, furniture, manufacturing, printing, windows and doors, and for mission critical packaging applications such as with healthcare.
In addition to customer snapshots that reveal how Packsize's packaging solutions result in less waste, lower shipping costs, decreased damage rates, and increased customer satisfaction, Packsize also demonstrates how the company's economic success and environmental responsibility are linked. The savings page shows how Packsize advocates for the reduction, re-use, and recycling of packaging and encourages the environmental stewardship of the company's supply partners and customers. The Packsize system helps to conserve trees, reduce landfill waste, and dramatically decrease CO2 emissions.
The new Packsize website features in-depth information about products, processes, savings, industry testimonials and custom packaging.
About Packsize International LLC
Founded in 2002, Packsize International LLC is the world's leading provider of lean On-Demand Packaging™ systems for businesses with complex corrugated packaging needs. Packsize delivers an alternative to the existing corrugated supply chain with "Right-sized Packaging on Demand" which eliminates the need for large inventories of pre-ordered cardboard boxes, reducing the packaging "footprint," and trimming work content required for boxing and shipping.
For more information,
visit http://www.packsize.com or call 801.944.4814, x141.
©2011 Packsize is a registered trademark and Right-sized Packaging on Demand and On-Demand Packaging are trademarks of Packsize International LLC in the United States and other countries. All other brand and product names are trademarks or registered trademarks of their respective companies.
###