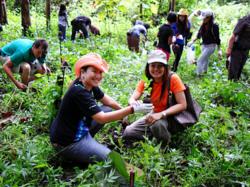 (PRWEB) September 21, 2011
Flight of the Gibbon, Asia's largest zipline canopy adventure company, recently sponsored the planting of over 2,000 trees in the rainforest at Mae-on and Maekampong village, Mae-on district, Chiangmai, Thailand. The planting continued an annual commitment to support the Flight of the Gibbon Conservation Project, aimed at rainforest restoration and primate rehabilitation since 2008.
Flight of the Gibbon was founded with a mission to protect Asia's endangered wildlife and rainforests, and has have donated 10% of their profits to support this goal since 2008. The goal is to plant one million trees within 20 years. The tree planting ceremony held on September 10 was attended by more than 40 dignitaries and local citizen volunteers, including government officials and forestry department officials.
Flight of the Gibbon was founded by a group of nature-lovers who spent their weekends engaged in conservation projects throughout the mountains of northern Thailand. In 2004, they discovered a few gibbon remains while they were photographing the gibbons of Doi Intanon. According to their guide, the remains were most likely the result of poaching.
Baby gibbons are a valuable commodity either as pets, or as a bar side attraction, but the only way to capture a baby gibbon is to kill the mother. This was disturbing news and was followed by another sad event. In 2007, a pair of captive white-handed gibbons were discovered abandoned and near death on a roadside -- dumped by their previous owner of five years without any more regard than throwing away trash. Shockingly, the two gibbons were still locked in their cage without any food or water. Learning of Tong Dee and Tong Lord's sad fate, the group of conservationists promised to find a way to rehabilitate and release the pair back into the wild and to keep them protected.
In part due to the efforts of Flight of the Gibbon, gibbons can still be seen in their natural habitat. In fact, a baby gibbon, affectionately named Mojo by sky rangers who lead the zipline tours, was born close to the place where the zipline adventure platforms sit high in the trees.
Learn more about the Flight of the Gibbon Conservation Project at http://www.treetopasia.com/rainforest-conservation/thailand-rainforest-conservation/
###