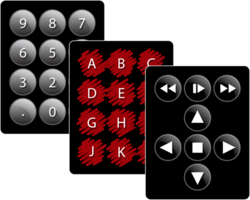 We make it simple
Pasadena, CA (PRWEB) September 25, 2011
Reztek releases it's new line of capacitive touch keypads. Non-contact and with no moving parts, these keypads sense a human finger up to 2mm away. Customize your graphics and print them out on a standard laser or inkjet printer. Sandwich the graphic between the keypad and the included laser-cut, acrylic window and you are ready to go.
Typically, keypad manufacturers cater to volume users with custom solutions. Reztek's keypads have a custom look, but are available immediately from stock. Typical users are machine builders, product designers, engineers, and hobbyists.
Eight keypads are available, each with 17mm key spacings. From smallest to largest we have the 4-Key KEYPAD1X4, the 6-Key KEYPAD1X6, the 8-Key KEYPAD2X4, the 12-Key KEYPAD2X6, another 12-Key KEYPAD4X3, the 16-Key KEYPAD4X4, the 20-Key KEYPAD4X5, and finally the 24-Key KEYPAD4X6. In each case the first number is the number of rows, the second number is the number of columns.
Five models are LED capable with 7 different LED colors: Red, Green, Yellow, Yellow-Green, Orange, White, and Blue. LEDs are added as a build to order option so you can add any color to any available position.
Three keypad touch controllers have also been released. The first two ( 12 and 24 channels ) have an I2C interface. I2C is an industry standard serial bus that operates up to 100KHz and needs only 2 wires, one wire for data, the other for clock. The third is a 24 channel controller with USB, RS232, and TTL UART interfaces. This makes it easy to connect your keypad to a computer or to a device without an I2C bus. They are based on the Freescale Semiconductor MPR121. All include a beeper.
Graphic templates are provided on Reztek's web site to help you customize the look of your keypad in minutes. Template are in Adobe Illustrator and CorelDraw formats, though you can use the freely available InkScape to edit them. Change the button's shape, color, and text. You can even remove buttons if they aren't necessary. Then just print the graphic on your own printer, cut it out, punch any holes, and install between the window and the keypad.
Sample code is available for Arduino and PIC micro controllers. The code clearly demonstrates how to initialize the controller and how to get key presses. This dramatically shortens the development time for your product.
Reztek is committed to make it as easy as possible for you to incorporate a high performance, capacitive touch keypad in your application. Visit us at http://www.reztek.com to see how simple it can be.
###