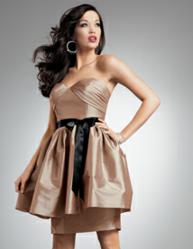 President Eva Buziecki said, "Today's wedding party is more savvy. They're looking for a versatile dress that they can get longevity and wearability out of."
Glen Ellyn, Illinois (PRWEB) September 22, 2011
House of Brides is calling the cocktail hemline "the new length" for bridesmaid dresses. The recent trend lends itself especially to spring and summer weddings. The above the knee length allows bridesmaids to wear the dress for multiple occasions beyond the wedding day. Surveys show that the average bridal party is in their 20s, making the length suitable for that age group. With the average bridesmaid gown retailing for $200, customers find they can wear the cocktail length dress for various settings like work with a tailored jacket, a denim jacket for a casual look and opaque tights for an evening look. President Eva Buziecki said, "Today's wedding party is more savvy. They're looking for a versatile dress that they can get longevity and wearability out of."
Hemlines have progressively shortened over the past seasons. Tea length, in which the hem hits below the knee and mid-calf, was the top trend 5 seasons ago. The length continued to move up with knee length styles gaining popularity. Now cocktail length is the most favored option for wedding and special occasion parties.
Jordan Fashions is a particular designer that offers youthful and vibrant bridesmaid dresses for a reasonable price. The collections come in sizes 0 – 16, plus sizes 18 – 34 and junior sizes 4 - 16. With bright colors being on trend, Jordan Fashions has more than 75 colors to choose from for most of their dresses such as "Mango" and "Passion." The designer has various styles from traditional to contemporary and silhouettes ranging from A-line peplum skirts and Grecian cuts. Jordan Fashions is available at all 6 bridal salons as well as all other leading bridesmaids collections.
The Spring 2012 National Bridal Market in Chicago is September 24th through September 27th. House of Brides buyers anticipate cocktail length bridesmaid dresses to dominate the 2012 collections.
House of Brides cocktail dresses are viewable on the website at http://www.houseofbrides.com/c-4-bridesmaid-dresses.aspx.
About House of Brides:
House of Brides established its first brick-and-mortar store in 1929 and has since grown to 10 Chicagoland stores and global E-Commerce website, http://www.houseofbrides.com. Millions of Brides and their wedding parties visit our salons and global website for over 30,000 wedding and special event products.
# # #