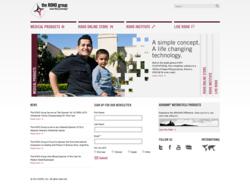 We really wanted an intuitive way to direct customers to the right information on our website.
(PRWEB) September 22, 2011
Web marketing and website design company, The Net Impact® was honored to receive a Targeted Advertising and Marketing (TAM) Website Development Award on September 12th for The ROHO Group landing page. The ROHO Group manufactures and sells wheelchair seat cushions and offers a full line of shape fitting products.
The ROHO Group has five websites: a medical products site, the ROHO Online Store, ROHO institute, a "LIVE ROHO" community site and their Airhawk™ motorcycle products site. Instead of creating lists of product pages hidden deep within The ROHO Group website, The Net Impact developed a landing page portal. This intuitive portal directs visitors to the appropriate product website to find corresponding training and product information.
"We really wanted an intuitive way to direct customers to the right information on our website. We needed a user-friendly, easy to understand and of course, completely optimized system and we got exactly that," said Rebecca Heckert, eMarketing Coordinator, The ROHO GROUP.
Developed and designed by The Net Impact web design team, The ROHO Group landing page received a Gold TAM Award for the Website Development Landing Page Category. The TAM Award was accepted by The Net Impact's Lead Designer, Randy Verbeck.
"This past July, The ROHO Group received the Illinois Governor's Export Award for Medium-Sized Business Exporter of the Year," said Mandy Christanell, Creative Director for The Net Impact. "This is a company that is doing great things in product development and economic growth. Getting the opportunity to play our part and help them achieve this kind of success is truly rewarding. It's so much bigger than just designing a really cool landing page."
The TAM Awards recognize the best business-to-business marketing work in the St. Louis area. The awards showcase entries from several categories: print advertising, direct mail, trade exhibits and large format displays, promotional materials, public relations and human resource communications, corporate identity graphics, annual reports and newsletters, web development and social media, and multi-faceted campaigns. This is the second year that The Net Impact has participated and won awards in multiple categories.
About The Net Impact®
The Net Impact, a full service Internet marketing and web design firm, is a division of Unidev®. Since 1997, The Net Impact has been a web development leader, empowering clients with highly creative search engine friendly websites. Professional services encompass search engine optimization and Internet marketing solutions, Internet strategy development, training and seminars, social media marketing and design, and web design and development. For more information on The Net Impact, please visit http://www.thenetimpact.com, or call (636) 458-7772.
About The ROHO Group, Inc.
Specializing in shape fitting technology®, The ROHO Group manufactures and distributes a variety of standard and custom-size wheelchair cushions and accessories, back systems, powered and non-powered support surfaces and the full line of XSENSOR® Pressure Mapping Systems. For more information, visit The ROHO Group's website at http://www.therohogroup.com, or contact customer service at (800) 851-3449.
###