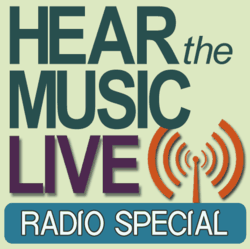 "Early concert experiences are so memorable for anyone who is passionate about music," said Tunick. "We love the mission of Hear the Music Live and are thrilled to be a part of this first radio special."
(PRWEB) September 22, 2011
Hear the Music Live, a Danville, California based 501(c)(3) non-profit organization, has announced the release of their debut country radio special, to be digitally distributed Sept.21 through Play MPE.
The 60 minute show focuses on country recording artists sharing the stories of the first concerts they attended as children, and the impact it had on their lives and music careers. Andy Griggs, Buddy Jewell, Point of Grace, Katie Armiger, Due West and Mark Cooke all contributed exclusive interviews for the show, which also features music selections from Brooks and Dunn, Conway Twitty, Charlie Daniels and Sawyer Brown.
Founded in 2009 by Steven Nornhold, Hear the Music Live was created with the clear mission of helping to provide special live concert experiences for teens and pre-teens living in orphanages and residential foster care homes. Close to 10,000 young people have now attended live concert events through the organization's efforts and, in many instances, the guests have even had the opportunity to meet the artist backstage. A stellar lineup of country stars and concert companies have partnered with Hear the Music Live in donating tickets and meet and greet passes, including Brad Paisley, Keith Urban, Lady Antebellum, Live Nation and House of Blues.
The radio special was hosted by GrassRoots Promotion's managing partner Nancy Tunick, who has been instrumental in introducing Hear the Music Live to Music Row execs and country radio programmers. "Early concert experiences are so memorable for anyone who is passionate about music," said Tunick. "We love the mission of Hear the Music Live and are thrilled to be a part of this first radio special."
For more information on the Hear the Music Live radio special contact Nancy Tunick at 615.353.2778 (nancy(at)grassrootspromotion(dot)com). To learn more about Hear the Music Live visit http://www.hearthemusiclive.org.
###