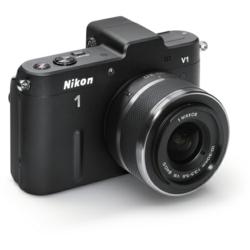 B&H Photo is excited to share with you the release of the newest Nikon Mirrorless cameras, lenes and accessories a breakthrough in technology and design.
New York, NY (PRWEB) September 21, 2011
B&H Photo will be one of the first retailers to stock the new Nikon V1 and J1 cameras, designed to meet the needs of professional and enthusiast photographers who demand performance, reliability and versatility in a compact form factor.
Nikon has introduced a new 'CX' (13.2 x 8.8mm) digital imaging format, and a pair of compact mirrorless cameras to go along with the new imaging system. Officially tagged the Nikon 1 System, the new cameras are called the Nikon V1 and Nikon J1, and they are designed around a new CX-format CMOS sensor that is—as far as size goes—midway between a FourThirds and a point-and-shoot format sensor. The crop factor is 2.7x.
Both cameras feature an all-new 10MP CX- format CMOS imaging sensor; 10 full-res frames-per-second capture rates; a dedicated Nikon System 1 lens mount designed specifically for use with the new CX-format sensor; JPEG, NEF(RAW), or NEF(RAW)+JPEG stills; full HD video (1,920 x 1,080/60i, 1,920 x 1,080/30p, 1,280 x 720/60p; a Smart Photo Selector that automatically captures a high-res still while recording HD 1080p video; and a new dual-core EXPEED 3 image processor, which according to Nikon is tuned to enable the new cameras to perform as advertised.
Other features include a new 73-point hybrid AF system that automatically switches between phase and contrast detection as needed and full-time continuous focusing, and an ISO range of 100-3200 (expandable to ISO 6400).
In addition to the abovementioned attributes, the Nikon V1 features a high-definition 1,4400,000-dot electronic viewfinder (EVF) that comes into play when you raise the camera to your eye, along with a more traditional 3.0", 920,000-dot rear-mounted LCD. The less expensive version, the Nikon J1, features a 3.0", 460,000-dot LCD and does not have an EVF.
In addition to a standard 10-30mm kit lens (27-81mm equivalent), there's also a 1 Nikkor 10mm/f2.8 pancake lens (27mm equivalent), a 1 Nikkor 30 – 110mm/f3.8-5.6 (81-297mm equivalent), and a 1 Nikkor VR 10-100mm/4.5-5.6 (27-270mm equivalent) power zoom, which is optimized for smooth, quiet video capture. New Nikon Nikkor mirrorless lenses
Accessories for Nikon's System 1 cameras include an SB-N5 Speedlight, an external stereo microphone for greater audio fidelity, and the GP-N100 GPS module, each of which couples to the camera via a Multi-Accessory port located on the camera's top deck.
Read more about the two new Mirrorless cameras.
About B&H Photo Video
As the world's largest source of photography video and audio equipment, B&H Photo-Video is known worldwide for their attentive, knowledgeable sales force, and excellent customer service, including fast, reliable shipping. Visitors to the website can access a variety of enlightening articles and educational videos. B&H has been satisfying customers worldwide for close to 40 years.
###