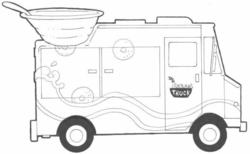 Dulay says, "[Customers will] come out because they want to take part in an experience that is fun, autonomous, and satisfies the craving for good ole' cereal and milk."
Los Angeles, CA (PRWEB) September 22, 2011
Well at least we're expecting a new kid to show up in the upcoming months. The "Kid" is only a pun. In fact, we're really talking about kid's food; the first ever Cereal Truck to be correct. Paying homage to Saturday morning cereal and cartoons, the boys at Grab Interactive plan to give the catering truck community something to drive home about.
"Why would I want to go somewhere outside of my house to eat cereal when I can just pour a bowl from my own kitchen?" begs a Sherman Oaks restaurant goer. "I don't see other people doing it, frankly."
Aaron Putnam, the inventor of the truck, and co-producer Peter Dulay are betting on black. "People are either on board with idea or they hate it.", professes Putnam. "There is no in-between here."
Dulay says, "I remember a time; people wouldn't leave their house for frozen yogurt and they certainly wouldn't drive 5 miles for a dinner off a roach coach either. Ironically, these are the same demographic of customers who will most likely to visit The Cereal Truck. They'll come out because they want to take part in an experience that is fun, autonomous, and satisfies the craving for good ole' cereal and milk."
Putnam adds, "…and we're probably better off having more people hating it then standing on middle ground. For the amount of people who hate it, there is an almost equal and opposite amount people who will embrace it."
For all those who oppose Grab's concept car, they sure are giving people a reason to love it. Similar to frozen yogurt shops running successfully throughout L.A. (and other major U.S. cities), Cereal Truck will offer a decent selection of (15-20) different cereals followed by 20-24 candy, nuts, and fruit toppings, plus 8 kinds of milk including non-fat, low-fat, chocolate, strawberry, skim, soy, almond, and rice. Bowls, incorporating a built-in sippy straw for milk slurping, can be filled with any combination of cereal, topping, and milk of choice.
Unsure as to how bowls would be purchased, Grab stated, "We like either a flat fee or by weight."
So what is an interactive agency doing building a Cereal Truck? Grab Interactive wants to run a web and mobile phone application system that lets customers build their own bowl online and then name it what they want to. When people show up at the truck, they will be able to order their bowl by name and have it made for them using the bowl's handle.
"We have been searching for a way to test the synchronistic nature between social media, mobile application, interactive advertising, and traditional word-of mouth. Basically, we have all these cool tools and want to do something different with them for a change. We want to use them to serve people cereal."
Grab Interactive is a startup interactive advertising firm initializing its first endeavor with the Cereal Truck Project. Dulay and Putnam have been holding executive positions at a PPC management and SEO company in Los Angeles, CA.
Although, there is no official release date on the Cereal Truck, Grab says they are eager to start as soon as enough people are behind the idea. Supporters are being encouraged to visit the Cereal Truck site and become fans of the Facebook page.
###