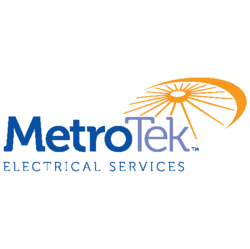 "It's been a pleasure working with the local zoning board to make the future a little greener for the Short Hill's community," stated Reiner Jaeckle, Chief Operations Officer of MetroTek.
Bridgewater, NJ and Short Hills, NJ (PRWEB) September 22, 2011
MetroTek Electrical Services Co., completed installation of over 130 solar photovoltaic panels on the roof of Community Congregational Church of Short Hills, NJ. The Church looks forward to offsetting a portion of their utility bill while earning renewable energy credits (RECs) and gaining a valuable income stream.
"I think it's great to see more and more schools, churches, and business embracing the advantages of renewable energy. It's been a pleasure working with the local zoning board to make the future a little greener for the Short Hill's community," stated Reiner Jaeckle, Chief Operations Officer of MetroTek. "Unfortunately the project didn't qualify for the New Jersey State grant we looked to utilize, but we applaud the decision makers at Community Congregational Church who still knew a great opportunity when they saw one." The energy generated by the system will help power the Montessori Children's Academy located behind the Church. The project also stimulated the local economy by utilizing local union electricians and ordering materials from area vendors.
The scope of work for the project included replacing the existing circuit breaker panel, installation of a 30kW inverter and photovoltaic panels, wiring for the system and connection to the utility grid. MetroTek also created the pathway through which Community Power will be able to sell the renewable energy credits generated by the system. MetroTek Electrical Services oversaw the project engineering and installation of the new roof.
Energy Alliance Group LLC provided the bonding and surety for the solar energy project. "We are pleased to be able to help MetroTek Electrical Services and the Community Congregational Church realize their goals to provide clean energy for their community members," stated Eric Abeshaus, CEO of Energy Alliance.
About MetroTek Electrical Services Co.
MetroTek Electrical Services provides exceptional electrical solutions to the complex problems and mission critical needs of the company's commercial, industrial, and utility clients. MetroTek serves customers in Pennsylvania, New Jersey, and New York, providing electrical construction, high voltage, automations, instrumentation, telecommunications, and renewable energy services. Along with our electrical construction and maintenance divisions, MetroTek excels at delivering on-demand electrical testing and diagnostics as part of the company's unparalleled emergency response and repair service.
Additionally, MetroTek's electrical engineering expertise and commitment to green energy drives the company to deliver superior sustainable energy solutions through the combined use of wind, solar, smart grid, and energy efficiency technologies.
Learn more about MetroTek, visit us at http://www.metroelectrical.com or
Contact:
Reiner Jaeckle of MetroTek:
1-610-810-1765 or via email at info(at)metroelectrical(dot)com
About Energy Alliance Group LLC
Energy Alliance Group, LLC, connects projects with financing across the alternative energy and construction industries under power purchase agreements and other financial vehicles. The Company is currently financing the Northampton Area School District's solar installation, the largest net-zero solar installation in Pennsylvania.
Contact Energy Alliance Group: info@energyalliancegroup.net
About Community Congregational Church
Community Congregational Church was founded by eight friends in 1953 who felt the need for a simplified, non-liturgical form of worship. Their objectives were to bring people together in the name of Christ and to create a Christian fellowship with neither rigid dogmas nor creeds as a condition of membership. These objectives remain a foundation of the church.
###